Ontario Seniors Dental Care Program

---
Program Application
---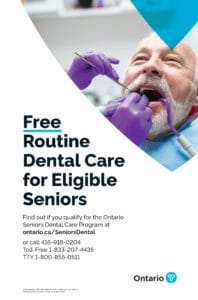 We are working hard to keep the community updated as news and program details are available.  Here are some answers to your frequently asked questions about the program:
A new provincial program has launched which will assist low income seniors in need of dental care.
On a local level, implementation of this new program will take on a phased approach. As we have now entered Phase One, we are happy to announce that we are able to:
Offer preventative care clinics and appointments (cleaning, fluoride application, etc.)

Provide assistance to community partners so that they are able to assist their clients with program enrollment

Support any eligible* seniors with their application process
Although at this time we do not have the capacity (equipment, resources or staff) to provide treatment or restorative care, we anxiously await the opportunity to do so and will alert such news to the public at that time.
What are the eligibility criteria to qualify for this program?
Ontarians aged 65 and over with an income less than $22,200 or a couple with a combined annual income less than $37,100 who do not have dental benefits (e.g., through private insurance or other government programs) will qualify for the Ontario Seniors Dental Care Program.  Eligibility for the Ontario Seniors Dental Care Program will be based on a senior's net income (line 236 from your income tax form).  Net income measures the sum of all income potentially subject to tax, including but not limited to employment income, investment income, pension income (including CPP), and government social support payments (e.g. OAS Guaranteed Income Supplement, Social Assistance), less non-discretionary expenses associated with earning income (e.g., union dues, professional fees) and pension contributions *e.g., RRSP contributions or contributions to a Registered Pension Plan).
How will a low-income senior access the OSDCP?
Once the program is launched in fall 2019, seniors will be able to get an application form online from the Ministry of Health or the CK Public Health.  A provincial processing centre will handle all of the completed application forms and will verify the applicant's income.  Eligible seniors will receive a dental card confirming their enrollment in the program.
How do I book an appointment?
Once you receive your card, you have to contact CK Public Health to book an appointment at 519-355-1071 ext. 5700.  All clients will need an appointment to be seen.  Locally, you can only use your card at CK Public Health and not at a dental office.
If using this program, you will not be able to see your family dentist for treatment.
What dental services will be covered under this program?
Dental services covered under this program will include the following:
Examinations/assessments

Preventive services (e.g., cleanings)

Restorative services to repair broken teeth and cavities

X-rays

Oral surgery services to remove teeth or abnormal tissue

Anaesthesia

Endodontic services to treat infection and pain

Periodontal services to treat gum conditions and diseases
Prosthodontic services, including dentures, will also be covered to a certain extent under the OSDCP.
We appreciate your patience as we move forward to implement this program.  If you have questions, please contact CK Public Health, Oral Health Services at 519-355-1071, ext. 5700 or 177 King St. East, Chatham