Annual Immunization Record Review
While CK Public Health is busy with COVID-19 pandemic response, our review process has been temporarily put on hold. We continue to encourage all parents of children aged 2 months to 18 years to report their completed immunizations to Public Health to ensure your child remains up to date.
If you have questions about which immunizations are recommended for your child, call 519.355.1071 ext. 5900.
Updating Immunizations Is As Easy As 1… 2… 3!
Check yellow card

Make an appointment with your healthcare provider

Report shots to CK Public Health

Online: click here

Email:  reportshots@chatham-kent.ca

Phone: 519.355.1071 ext. 5900

Fax:      519.436.3214
STARTING SCHOOL OR CHILD CARE?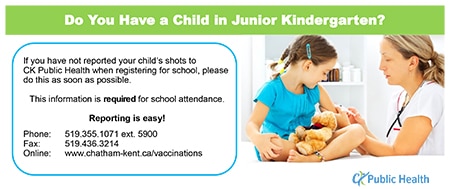 No problem! Just complete the form below, attach a copy of your child's immunization record and submit it directly to us at CK Public Health. Don't forget, your child care facility will need a copy too. Prefer to submit online? Click here.
What If You Cannot Find Your Child's Immunization Record?
Your child should be considered susceptible to disease and should be vaccinated (or revaccinated) if you can't find his or her records or their records are incomplete. It is safe for your child to receive a vaccine, even if he or she may have already received it. Alternatively, your child could also have their blood tested for antibodies to determine his or her immunity to certain diseases. However, these tests may not always be accurate and doctors may prefer to revaccinate your child for best protection. Talk to your child's healthcare provider to determine what vaccines your child needs for protection against vaccine-preventable diseases.
CHOOSING NOT TO VACCINATE
Parents are responsible for their child's health and well-being, including protecting them from vaccine-preventable diseases. CK Public Health urges all children to receive all routine vaccinations, unless there is a medical reason not to.
If you choose not to vaccinate your child you should understand the risks. You need to know how to make it less likely that your child gets an infection or spreads disease to others.