GRADE 7 IMMUNIZATION PROGRAM
Parents should receive immunization consents from us the first week of school. This school year we will be providing Hepatitis B, Meningococcal and HPV immunizations to all Grade 7 students (boys and girls), as well as catching up any Grade 8 students who may have missed out. Our team of nurses visit each elementary school in Chatham-Kent — Our vaccination clinics for students take place every Fall (Oct/Nov/Dec) & Spring (April/May).
The process is simple – just complete and sign the consent form and send back to school with your child – we will provide the shots during school hours. Fact sheets and extra consent forms are below. Please note: Only those students with signed and completed consent forms will receive these shots.
Remember Parents: Meningococcal protection is mandatory for all students who go to school in Ontario.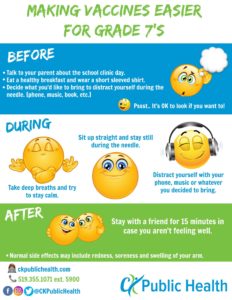 These vaccines are only available free of charge from CK Public Health; they are not available from your doctor or healthcare provider. If your child has a medical reason why they cannot complete their shots at school please call 519-355-1071 ext. 5900. 
If You Missed Your Shots…
Call us to book an appointment to get caught-up as soon as possible; don't delay. 519-355-1071 ext. 5900

Or do nothing – our team of nurses will provide the missed shots next time they visit your school. Be advised this may mean your child will receive 1, 2, or 3 shots on the same day – so make sure they are prepared. See helpful tips above.
HIGH SCHOOL STUDENTS
Currently, our CK Public Health nurses are not providing any routine or catch-up immunizations in local high schools. Any required shots are to be received at your regular family healthcare provider. Tetanus booster shots are required every ten years for all teens. The Tdap (Adacel) shot provided to adolescents protects not only against Tetanus but also against Diphtheria and Pertussis. Once you receive your shot – don't forget to report it to us! Online or via phone 519-355-1071 ext. 5900.
If you missed your Meningococcal (Menactra) vaccine in grade 7 it can only be obtained free through CK Public Health for those born after 1997. Please call 519-355-1071 ext. 5900 for an appointment. 
Note: Both Adacel and Menactra vaccines are a school requirement for all high school students.