GRADE 7 IMMUNIZATION PROGRAM
The response to the COVID-19 pandemic has impacted the delivery of public health programs including immunization services that normally take place at elementary schools throughout Chatham-Kent. Grade 7 immunization clinics have been suspended since April 2020 due to our ongoing COVID-19 response plan and priorities.
As we move forward into another school year in the context of a continued COVID-19 response, there will need to be local adaptation regarding our immunization programming as we work towards the common goal of high vaccine uptake and low vaccine preventable disease rates. Immunization is important.
While we continue to work to develop a plan and determine the logistics to again safely provide in-school vaccinations in the near future, our primary focus at this time is the safety of all students and staff from COVID-19 and ongoing immunization efforts as students transition back to class this fall.
If your child missed their Grade 7 immunizations as a result of this ongoing disruption, please contact us at 519.355.1071 ext. 5900 to discuss their extended eligibility and to arrange for the shots to be completed at your family healthcare provider's office.
Remember Parents: 
Meningococcal protection is mandatory for all students who go to school in Ontario.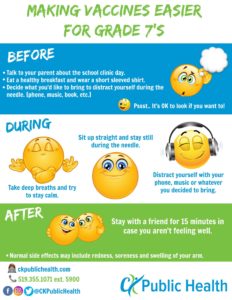 Those students currently in Grade 7, 8 and 9 continue to be eligible for publicly funded vaccinations (Hepatitis B, Meningococcal and HPV) and can arrange to have them completed at their healthcare provider's office. Parents must call us to ensure the vaccines are delivered to your healthcare provider's office prior to making your appointment, as they do not routinely have them in stock.
HIGH SCHOOL STUDENTS
Currently, our CK Public Health nurses are not providing any routine or catch-up immunizations in local high schools. Any required shots are to be received at your regular family healthcare provider. Tetanus booster shots are required every ten years for all teens. The Tdap (Adacel) shot provided to adolescents protects not only against Tetanus but also against Diphtheria and Pertussis. Once you receive your shot – don't forget to report it to us! Online or via phone 519-355-1071 ext. 5900.
If you missed your Meningococcal (Menactra) vaccine in grade 7 it can only be obtained free through CK Public Health for those born after 1997. Please call 519-355-1071 ext. 5900 for an appointment. 
Note: Both Adacel and Menactra vaccines are a school requirement for all high school students.