Many of us go to salons, spas, barber shops and tattoo parlours for personal services, like haircuts, manicures, ear piercing and tattoos. Most personal service providers work hard to make sure their clients enjoy safe services, however, serious infections can be spread if tools and equipment are not properly cleaned and disinfected. This includes Hepatitis B, Hepatitis C, HIV and fungal infections.
CK Public Health works to prevent you from getting sick from personal services.
What We Do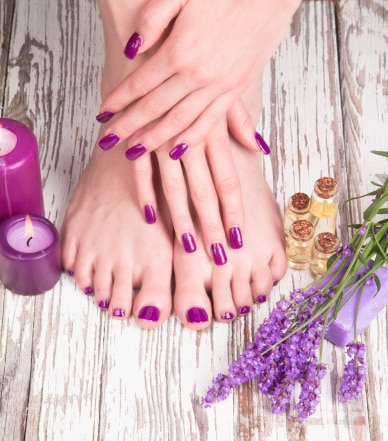 Our public health inspectors:
Inspect all hair salons, barber shops, nail salons, aesthetic clinics, tattoo parlours and other places where personal services are offered, including home-based businesses, to make sure that they are providing services safely

Educate salon owners and staff on proper disinfection of tools and equipment to prevent the spread of disease

Investigate cases of illness or infection related to personal services
Things You Can Do
What to Look For
Before getting any personal service, take time to observe practices and ask staff any questions you may have. Don't be afraid to refuse service if you are uncomfortable with anything you see or hear. Things to check:
Look up the health inspection report on

Check it CK

All work areas should be well lit, clean and organized

Tools, work surfaces and equipment should be in good repair (e.g. no rust, cracks, etc.)

Workers should wash their hands before and after serving you

Tools and supplies should be stored in a clean area (e.g. covered containers)

Creams and lotions should be used in a way that doesn't contaminate the original product (for example, a pump should be used instead of putting fingers into the jar)

Clean sheets, towels, robes, etc. should be used for each client and paper liners should be thrown out after each use

Single-use equipment should be thrown out after use – these items cannot be cleaned and disinfected

Examples include emery boards, nail buffers, toe separators, sponges, razors, wax applicator sticks, cloth wax strips, needles, ink holders, etc.
Ways to Protect Yourself
Protect yourself when getting personal services:
Only visit places that are inspected by CK Public Health. View the latest inspection reports on

Check it CK

before you go


Avoid personal services if your skin is broken, irritated or infected – this can increase your risk of getting an infection

Getting a pedicure? Do not shave before going – this can increase your risk of infection

Do not get services like ear candling, fish pedicures and eyeball tattoos or implants – these services are illegal because they pose a serious risk of infection or injury
If You Think You Got an Infection
If you think you got an infection at a salon or spa, see your health care provider. It is important that you avoid salon and spa services if you have a rash or infection to prevent others from getting sick.
You can always report concerns about salons or spas to CK Public Health. A public health inspector will follow up with you.
Who's at Risk
Personal services are any service where there is a risk of infection with diseases that are spread by exposure to blood, like Hepatitis B virus, Hepatitis C virus and HIV. They may also cause infections of skin and nails with fungus or bacteria. Examples of personal services include:
Haircuts and hair styling

Shaving or barbering

Waxing and threading

Manicures and pedicures

Ear piercing or body piercing

Aesthetic services, like facials, microblading, microneedling, permanent makeup, laser hair removal and electrolysis

Acupuncture

Tattooing
Salons and spas see many clients every day and some of these clients carry germs. Germs on a client's skin or in their blood or body fluid can come into contact with a salon worker's hands, tools or work surfaces during service. It's very important that workers wash their hands often and that tools and surfaces be cleaned and disinfected between each client to prevent other clients from getting sick. 
Anyone receiving a personal service is at risk of infection if workers do not wash their hands, clean and disinfect their tools properly, or reuse single-use equipment. Blood-borne diseases like Hepatitis B, Hepatitis C and HIV can lead to serious long-term health issues and even death.
Ask Questions
Do not be afraid to ask questions! You have the right to safe services.
Things you may do:
Ask the person providing your service to wash his or her hands in front of you before and after providing your service

Single-use items, should only be used once and then thrown away – ask for a new one before your service begins

Examples of single-use items include emery boards, nail buffers, wax applicators and pedicure credo blades

Reusable tools, should all be cleaned and disinfected in between each client – ask how these items are cleaned and disinfected

Examples of reusable tools include nail clippers, tweezers, scissors, foot paddles and foot baths