URGENT UPDATE(S):
To enable that individuals and our community remain safe from vaccine preventable diseases, and to maintain a high level of herd immunity, it is important that routine immunizations are provided to the extent possible despite the continued circulation of COVID-19.
Routine vaccination is an essential service and part of a health care provider's standard of care. Immunization can prevent illnesses that lead to unnecessary medical visits, hospitalizations, and further strain to the health care system.
Please continue to book routine immunization appointments with your healthcare provider and report the shots/dates to us at www.chatham-kent.ca/vaccination. It is highly recommended for those students born in 2009 or earlier to be vaccinated against COVID-19. Please schedule an appointment and/or visit one of our many pop-up clinics in your neighbourhood to ensure you have received two (2) valid doses of mRNA vaccine prior to returning to class this fall. For more information regarding COVID-19 vaccine, including clinic dates, appointment booking, education, research and FAQ please visit www.ckphu.com/covid-19-vaccines.
IMMUNIZATIONS
Vaccines have probably saved more lives in Canada in the last 50 years than any other health intervention. It is the single most cost-effective health investment, making it a cornerstone in the effort to promote community health.
Immunization is one of the most important things you can do to protect the health of yourself, your child, and your community. Immunizations prevent serious illness by helping the body make its own protection. They are very important for children who attend childcare facilities, enroll in school, play team sports, and visit summer camps.
Every immunized person helps make a healthier community. We know they are safe and they provide the best protection when given on time, every time.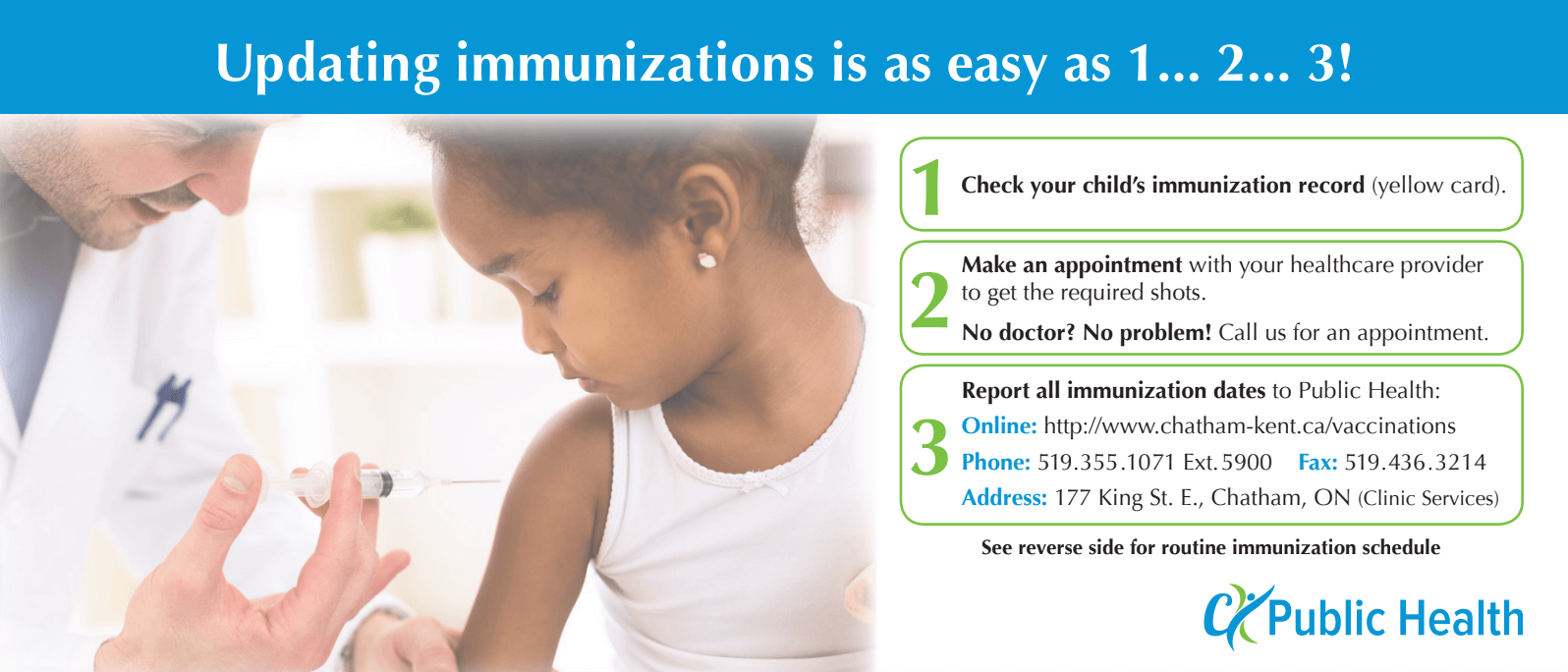 IMMUNIZATION RECORDS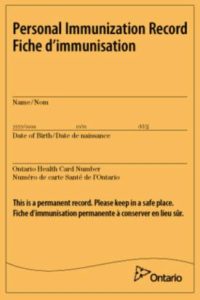 It is very important to keep a record of your child's shots – typically a yellow card completed by your healthcare provider. Bring the card with you to each immunization appointment and keep it in a safe place so you know which vaccines your children have already received. Written immunization record are needed when:
Starting childcare or school

Moving to another municipality

Going away to camp, college or university

Starting a new job

Seeking emergency healthcare or visiting your doctor

Travelling abroad
DO NOT FORGET: It is the parent's responsibility to let us know if your child gets a shot. CK Public Health does not regularly receive immunization information from your health care provider, childcare facility or school.
To retrieve a copy of your immunization record or to report your child's shots visit ckpublichealth.com/immunizations or call 519.355.1071 ext. 5900.