Thank you for your work!
Health care and service providers are trusted professionals, are essential members of the dynamic collaborative effort being performed to manage the COVID-19 pandemic. Community members look to you for support, advice and reliable information about the COVID-19 vaccine. We have provided information and resources below to help you answer questions you may be asked by your clients and patients. If you don't see the answer to a question you have, please reach out to us at: covid19@chatham-kent.ca
Together, we can write the story of how Chatham-Kent made it through this moment safely.
Vaccination in Chatham-Kent
As COVID-19 vaccines begin to roll out across the province, CK Public Health and the Chatham-Kent Health Alliance are working together with the Chatham-Kent Ontario Health Team and community partners to coordinate the delivery of the COVID-19 vaccines to priority populations and the general community of Chatham-Kent.
In accordance with Provincial guidelines, the first to receive the vaccine in Chatham-Kent will include health care workers; residents, staff, essential caregivers and other employees of congregate living settings; adults in Indigenous communities, and adults receiving chronic home health care.  Multiple scenarios and plans are required due to the complexity of needs associated with different vaccines, and to ensure a safe, fair, and quick distribution practice.
Check out the links below from the Province of Ontario for current information re: vaccine distribution: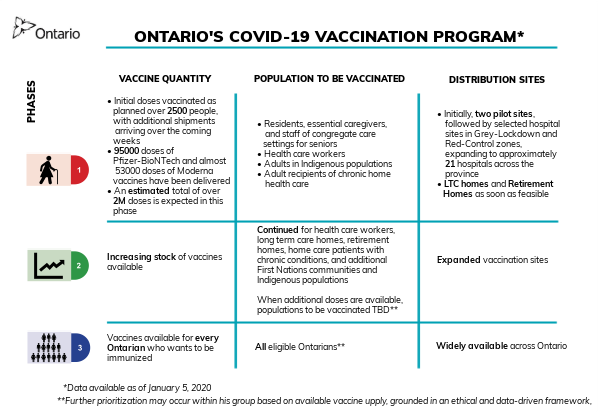 Ethical Framework for COVID-19 Vaccine Distribution
As more information becomes available about the distribution of the vaccine in Chatham-Kent, we will update this section.
About COVID-19 Vaccines
As of January 1 2020, two COVID-19 vaccines have been approved for use by Health Canada:
Pfizer-BioNTech COVID-19 Vaccine
Moderna COVID-19 Vaccine
Learn more about the use and safety of these vaccines below.
National Advisory Committee on Immunization Statement
Product Monographs
Summary of Product Details
Other Resources