Self Assessment Tool
Use the Ministry of Health's self-assessment tool to help determine if you need to seek care. Please do not visit an assessment centre unless you have been referred by a healthcare professional. Always call your heath care provider before visiting.
If you feel you are not getting enough air or are experiencing other severe symptoms, call 911.
TAKE THE SELF ASSESSMENT
Business owners should be taking precautions during this COVID-19 pandemic to protect their customers, employees and themselves.
Non-essential businesses should close.
On March 24, the Ontario Government ordered non-essential workplaces to close-down. A list of essential workplaces is available here. For more information, see see our Closures, Orders & Recommendations section.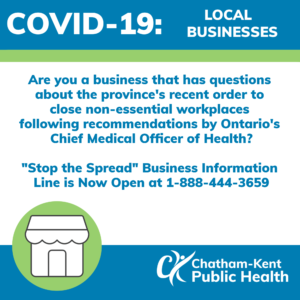 Communication is incredibly important during this time. Please communicate your expectations with your employees and encourage employees to discuss potential issues with you.
All employers are strongly encouraged to make virtual work arrangements for their employees wherever possible. This will allow those employees the opportunity to limit their daily interactions, care for their children and self isolate.
If working from home is not an option, space should be kept between all staff (at least 2 meters or the length of a hockey stick).
Ensure employees who should are self-isolating.
Encourage hand-washing & clean frequently used surfaces.
Encourage hand washing and use of hand sanitizers for all employees.
For retail environments, providing hand washing stations or hand sanitizers is welcomed but is not mandatory.
Perform routine cleaning focusing on surfaces that are more likely to be touched by employees and customers. Sufficient routine cleaning consists of using soap and water followed by a disinfectant with a DIN number.
Ensure customers are taking appropriate precautions.
Advise customers who are feeling unwell and have respiratory symptoms (coughing, runny nose) or who have traveled internationally and are self isolating, to reschedule appointments to when they are feeling better or past their self-isolation date;
Practice physical distancing;

have customers maintain a distance of at least 2-metres  or 6ft (the lenght of a hockey stick) away from each other, and other employees, when waiting in line;
encourage waiting customers to leave and wait in their vehicles instead of sitting at tables for take out food;
create physical lines or barriers for customers to stand behind or away from each other;
distance workers from one another in their workspace;
do not shake hands, hug or come into close contact with your customers or other employees.
For more questions on how your business can continue to operate safely during this time, please call the CK Public Health COVID-19 intake line at 519.355.1071 ext 1900.