At CK Public Health we believe, "there is no health without mental health."
The events over the past few months have brought many issues to the surface. Constant information overload, disruptions to daily activities, and changes to how we interact socially have increased stress for everyone. As the situation in Chatham-Kent continues to evolve and new sources of stress emerge, we thought it would be a good time to introduce you to Cathy.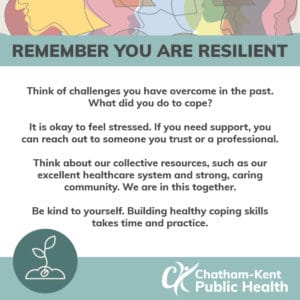 Cathy is one of CK Public Health's health educators working in mental health promotion. Cathy's role focuses on enhancing community well-being and building on strengths, such as resilience, coping skills, healthy relationships, and community belonging. She also works with community organizations and service providers to coordinate programs and raise awareness about mental health across the lifespan.
"Since the pandemic, I have been working from home to support my family because my son is immunocompromised. So I understand how changes to routine can affect the mental health of families and parents/caregivers."
"I've seen firsthand how the abrupt changes to all social activities have affected my teenage sons. Although they have ways to connect with friends online, they are still affected by the loss of proms, graduations, post-secondary opportunities, and employment. It's been tough, but we try to keep communication open as a family. We talk regularly about what we see on the news and what is worrying us. But we know many people do not have the same support."
Both in her role at CK Public Health and outside of work, Cathy and her family are courageous advocates for reducing stigma around mental health.
Even though one in five people in CK experience a mental health issue, mental illness continues to be met with widespread stigma. "Stigma is one of the most common reasons people with mental health issues do not get the help they need. Reducing stigma will help those with mental health issues be treated with respect and dignity."
"It's a big job that requires collective action from everyone in our community." Cathy says one of the simplest things we can do to reduce stigma is use person-first language and be mindful when talking about mental health.
Before her career in public health, Cathy was an elementary school principal. "Education is my background and mental health is very important to me personally. Promoting mental health and wellness in my community brings both of my passions together. That is why I choose to work in public health."
For resources to help cope with stress and uncertainty during these difficult times, please visit our Mental Health Hub.