Needle Syringe Programs (NSP) offer free safer injecting and safer smoking supplies in order to reduce the spread of blood-borne infections. They also help to protect the public by reducing the number of needles or syringes discarded in places like playgrounds and washrooms.
Needle Syringe Programs provide: 
Sterile needles and syringes

Alcohol swabs, filters, sterile water

Tourniquets (ties)

Acidifiers (vitamin C)

Cookers

Sharps Containers

Condoms and lube

Information on safe drug use

Information on safe sex
*Please note supplies may vary depending on location.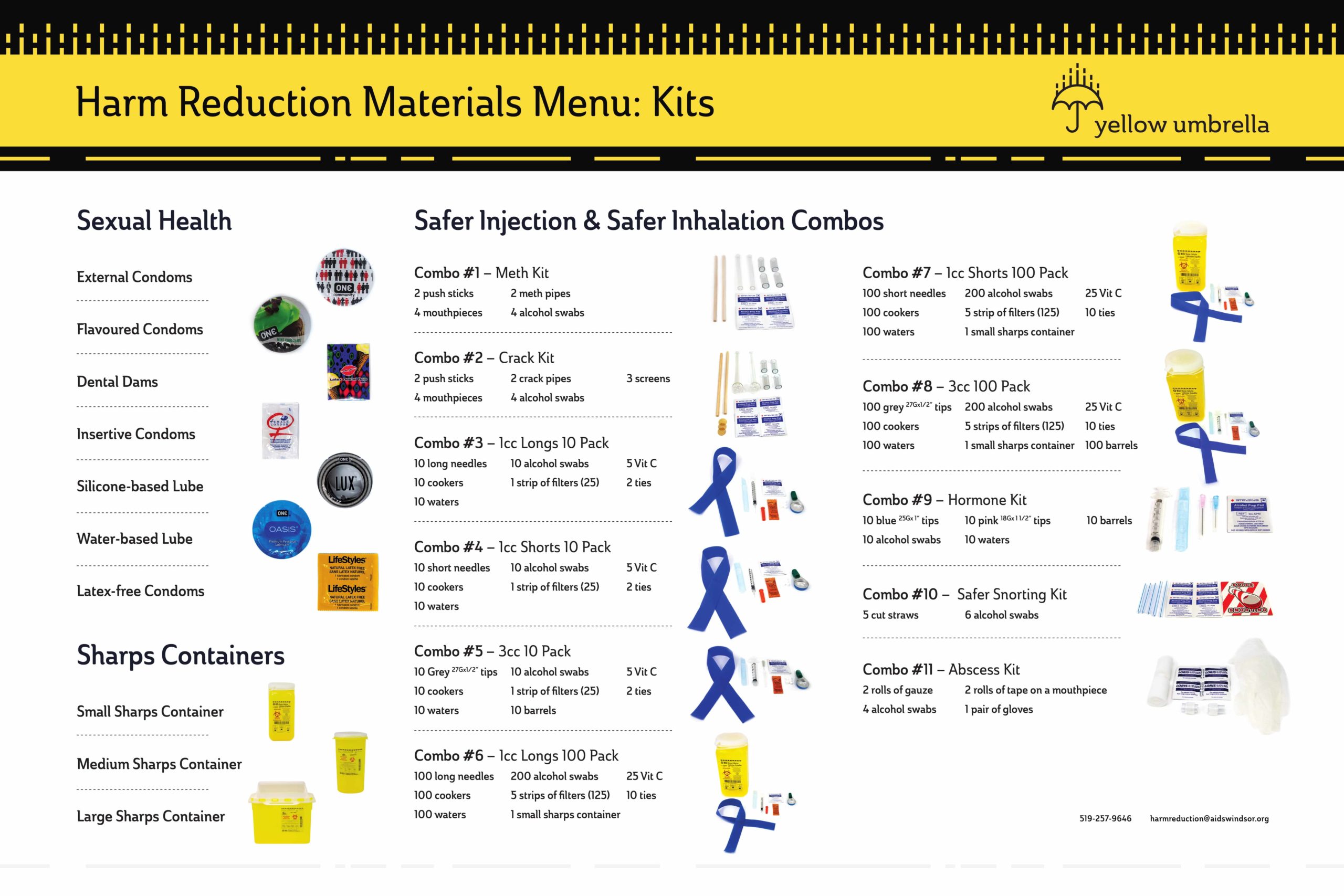 You can bring in your used needles or syringes for disposal and get new ones at any of the NSP sites listed below:
CK Public Health, Clinic Services
177 King Street East Chatham, ON N7M 3N1
Mon-Fri – 9:00am to 4:00pm
Enter off the parking lot
Shoppers Drug Mart
30 McNaughton Avenue Wallaceburg, ON N8A 1R9
Mon-Fri – 8:00am to 9:30pm
Saturday – 9:00am to 8:30pm
Sunday – 10:00am to 8:30pm
McIntrye I.D.A. Pharmacy
49 Talbot Street West Blenheim, ON N0P 1A0
Mon-Fri – 9:00am to 6:00pm
Saturday – 9:00am to 3:00pm
Sunday – 11:00am to 3:00pm
Yellow Umbrella
AIDS Committee of Windsor Mobile Outreach
Friday – 11:00am to 3:00pm (Order by Wednesday each week) 
For delivery please call or text 519-257-9646 48 hours before the delivery date harmreduction@aidswindsor.org
*Delivery may be cancelled due to unforeseen circumstances
* If you or a family member use needles/syringes for medical reasons (e.g., diabetes), please contact your pharmacy for further information.