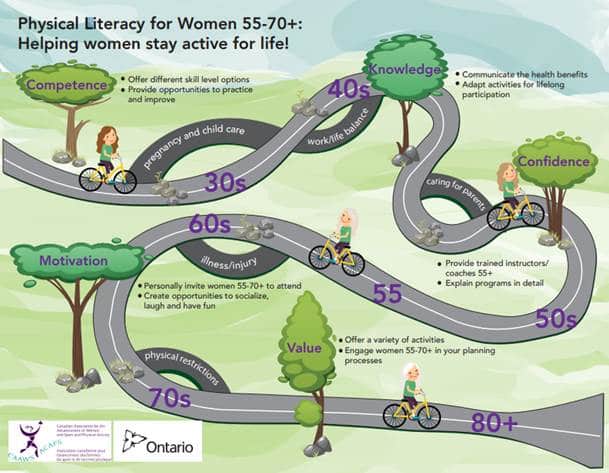 Now is the time to get up and get moving!
"Engaging in regular exercise is one of the best things individuals can do to ensure that they age successfully" - Sport for Life, 2016
Keeping active helps:
you feel healthier and stronger

improve your balance

reduce falls and injuries from a fall

you stay independent longer

prevent heart disease, high blood pressure, stroke, osteoporosis, adult-onset diabetes, depression and some cancers
How much activity do you need to stay be healthy?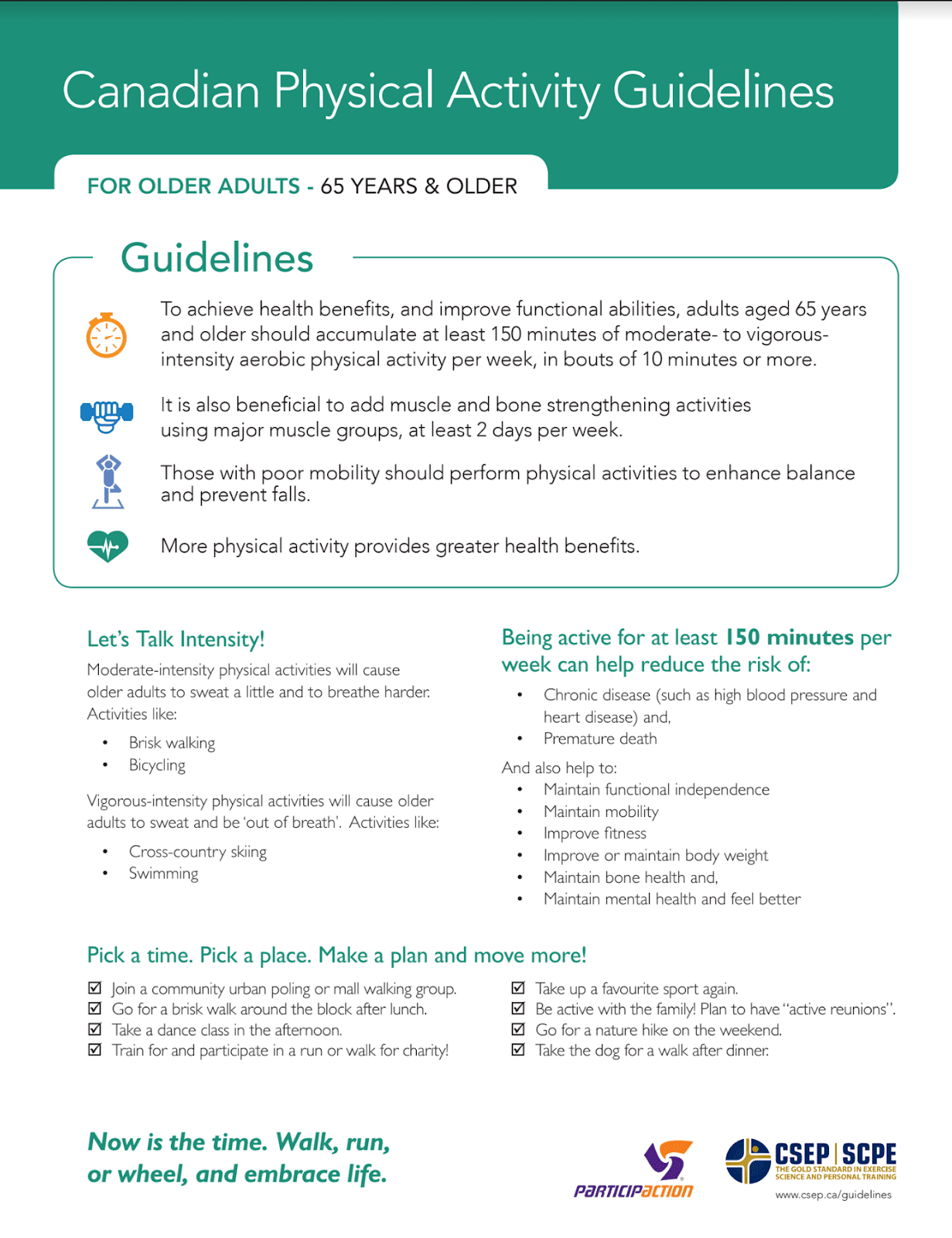 It is recommended you speak with your health care provider about the kinds of exercises and activities you can safely do to improve your muscle strength, balance and endurance. Review the Canadian Physical Activity Guidelines for Older Adults and visit Active Aging Canada for support on healthy living for life!
Getting Active in Chatham-Kent:
take advantage of the natural surroundings weaved throughout the municipality; trails, bike paths, parks and beaches

join an exercise class at one of the many local health, fitness, or senior centers

go to the C-K Seniors Portal and see what is going on in your area

if you're not active now, any amount of physical activity added into your day can bring health benefits
Links to help you get active:
Good nutrition will help maintain your strength, co-ordination and mobility

. 

Make healthy food choices by following 

Canada's Food Guide to Healthy Eating

Healthy eating is more than the foods you eat. It's also about where, when, why and how you eat.

Do not skip meals; it can make you weak and dizzy, which will increase your risk of falling

It's important to drink enough fluids since it helps prevent dehydration, joint and muscle pain and constipation. Don't wait until you're thirsty to have a drink of water! 
Links to support healthy eating 
Nutri-eSCREEN is an online questionnaire that will help you find out how you are doing with choosing foods that help you stay healthy and active.
The majority of injuries are predictable and preventable. Use this checklist to help you find situations that may put older family members at risk for a fall.
In the kitchen
Use a sturdy stool for reaching high cupboards.

Keep everyday dishes and kitchen supplies within easy reach.

Ensure tile, linoleum, and rugs are secured to the floor.

Ensure the dials on the stove are clearly marked ON/OFF.

Keep a fire extinguisher in your kitchen and know how to use it.
In the bedroom
Keep a clear, well-lit path from the bedroom to the bathroom for night time travel.

Have easy access to a phone from your bed.

Have easy access to a lamp from your bed.
In the bathroom
Install grab bars in the tub and by the toilet.

Have a non-skid bath mat beside your tub.

Use a rubber bath mat in your tub.

Keep medications stored out of this hot moist area.
In the basement
Keep stairways well-lit and free of clutter.

Secure handrails on BOTH sides of the stairway.

Know how to change a fuse or reset a circuit breaker.

Set the hot water heater to no more than 130 degrees Fahrenheit or 54 degrees Celsius.

Safely store paint, turpentine, gasoline and other hazardous materials.
Fire hazards
Keep extension cords in good condition and out of travel paths.

Use only the recommended amount of plugs in an electrical outlet.

Have one working smoke alarm for each level of your home and within sleeping areas.

Have an emergency exit and escape plan, in case of fire.
For added security
Use programmable lights that come on in your house when you are away.

Be able to see who is at exterior doors without having to unlock them.

Be sure windows have operating locks.
Source: Thunder Bay District Health Unit

Vision and hearing play a vital role in balance and movement. 
Get your eyes checked, and your glasses prescription reviewed  every year

Clean glasses regularly

Have your hearing checked periodically

Keep hearing aids in good working condition
To decrease your chance of having a fall, each year review all the medication you take with a pharmacist, your doctor or other health care provider. Medications include prescriptions, over the counter pills, vitamins and herbal supplements. Get to know your medications.
Medications can affect you differently as you age

Medications that relax you, help you sleep or improve your mood can increase your risk of falling

Some medications have side effects that may increase your chance of falling - learn the side effects of the medications you take.

Returning your medication to a pharmacy decreases the chance of taking outdated medication or a medication incorrectly.

Alcohol affects how medications work – be careful