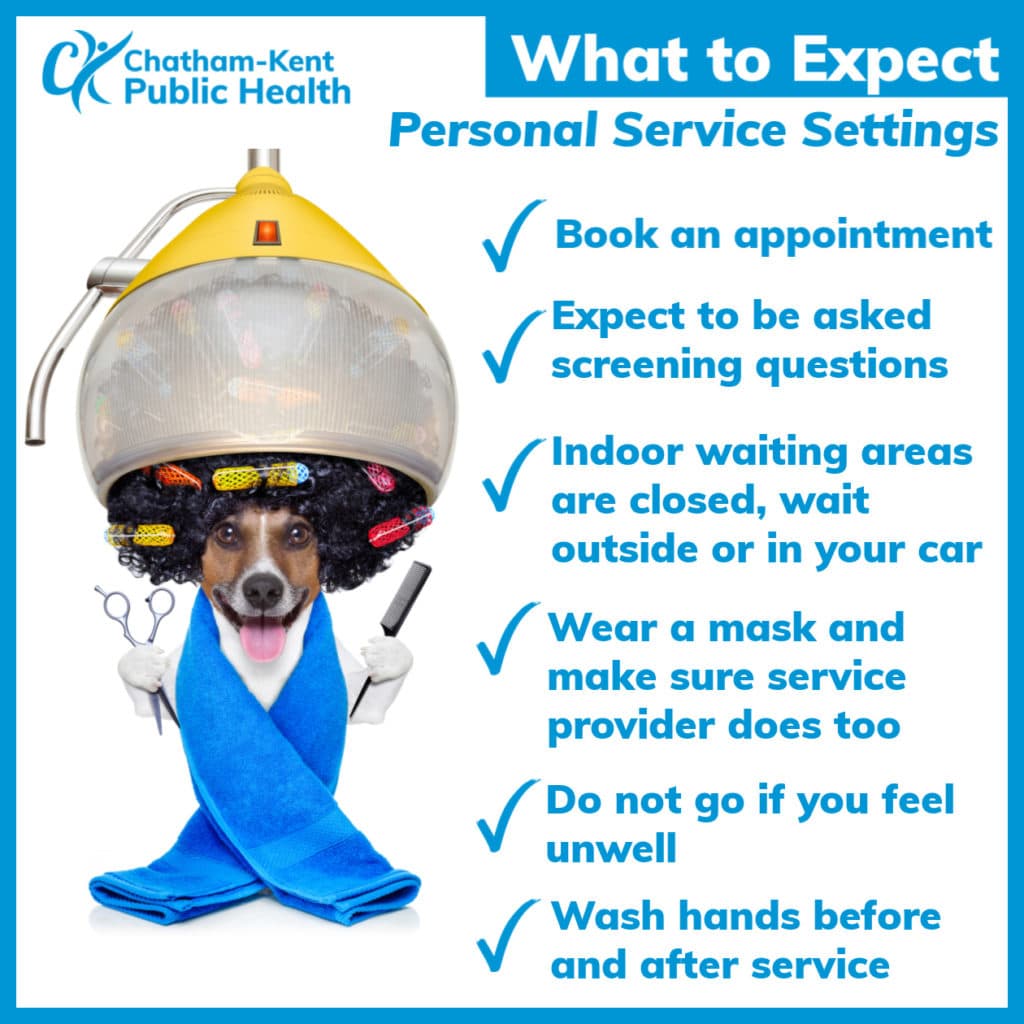 What to Expect in Phase Two: Service Settings
With more personal service settings opening in Phase Two, maybe you're ready for a much needed hair or dental appointment or perhaps some physio or massage therapy?
These types of services promote health and well-being, but, receiving health and personal care services at this time is not without risk.
Going in-person to these services can increase your risk of getting COVID-19 and spreading it to others. It is everyone's responsibility to follow measures put in place to protect the health and safety of workers and patrons.
While not all services and situations are the same, some measures can be expected no matter what service you receive. Knowing what to expect as a patron will help you prepare and follow important public health measures.
Responsibilities of Patrons
Book an appointment in-advance. Walk-in services are discouraged at this time. When booking, the establishment should give you instructions for when to arrive and what to bring. Please follow the process put in place by the establishment.
Do not go if you are feeling unwell. Staff will ask you screening questions when you book your appointment and upon arrival, including:
Have you traveled outside of Canada in the past 14 days?
Are you experiencing symptoms of COVID-19?
Have you been in contact with anyone who is known or suspected of having COVID-19?
If the response to ANY of the screening questions is YES, you will need to stay home and and call CK Public Health. If your responses to ALL of the questions are NO, you will be able to proceed to your appointment. For the safety of everyone, honesty is important.
Be prepared to provide your contact information. In case of a possible COVID-19 exposure, CK Public Health contact tracing will need to know how best to contact you. Please provide your name, phone number, and date and time of service. In such an event, your information will only be shared with CK Public Health.
Indoor waiting areas are closed during this time. You will be asked to wait inside your vehicle or in a designated waiting area outside of the building to reduce risks. Ensure proper physical distancing is maintained if waiting outside.
Go alone whenever possible. If bringing a family member or other member of your social circle, check with the service provider to find out how best to keep everyone safe.
When at the service setting, keep a physical distance of at least 2 metres (6 feet) from patrons and workers when services are not being performed.
Wear a mask or face covering over both the nose and mouth for services where physical distancing cannot be maintained. Services that tend to the face, such as waxing, facials, or piercings, are not permitted at this time because of the increased risk of droplet transmission from close, prolonged contact.
Follow visual cues and barriers. Plexiglas and other barriers are set up to keep space between work stations, staff, and patrons. They provide separation and block droplets that could spread the virus. Please do not attempt to go through or around barriers. Follow visual cues and instructions on signs and markings such as tape or stickers. These are in place to ensure physical distancing.
Wash your hands before you leave and after returning home. Use 60% or higher alcohol-based hand sanitizer upon arrival, throughout the appointment, and upon leaving.
Use tap features at checkouts instead of cash where possible. This will limit the number of surfaces you touch, limiting the chances of getting or spreading a possible infection. Clean hands after paying and avoid touching your face.
There are many ways to support local businesses that do not increase your risk for getting and spreading COVID-19. Continue to use online and telephone options for services, delivery, and curbside pick-up options as much as possible. Also limit the number of places you visit during each trip out in the community.
We are all adjusting to new regulations and trying to keep each other safe. One of the most important things we can all do is to be patient and understanding as we learn and adapt together. As always, CK Public Health is here to help answer your questions and provide support.
For more information, please visit www.ckpublichealth.com/covid19
If you have specific questions about how to stay safe and protect others during Phase Two openings, call 519.355.1071 x 1900 or email covid19@chatham-kent.ca.