Schools work really hard to keep the school allergy safe.
As a first step, we encourage parents to find out your school's policy on food allergies. Once you know about the foods that need to be avoided, keep them in mind when reading the ingredient list on food labels and when packing lunches. Schools that are nut aware includes walnuts, cashews, almonds and peanuts.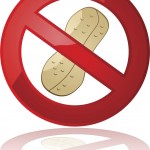 Not sure about prepackaged foods? Health Canada requires food manufacturers to clearly label products if they contain one of the government's priority allergens which are peanut, tree nuts; soy, wheat, egg, milk and seafood, sesame, sulphites and mustard.
All priority allergens must be listed on the ingredient list of pre-packaged food. For more information on priority allergens and what to look for on prepackaged foods click on the following link : Food Allergies- It's Your Health
What about the 'may contain' statement located on prepackaged food? According to Health Canada, these precautionary statements are encouraged but not required for food companies to include. Food companies may include this on the prepackaged food where a product may be at risk of accidentally containing allergens due to cross-contamination with other products. For helpful information on food allergens and label reading visit www.foodallergycanada.ca

In an effort to keep the school allergy safe, remind your child not to share or trade their food.
Looking for peanut-free lunches?
This list of foods generally does not contain peanuts or peanut products. Be sure to read food labels first.

• Fresh fruit, fruit cups
• Dried fruit (raisins, dried apricots, dried cranberries), 100% fruit leathers
• 100% fruit juices
• Fresh veggies
• Milk and chocolate milk
• Plain low fat cheese
• Low sodium pretzels
• Plain popcorn
• Whole grain crackers
• Homemade trail mix (without peanuts or other nuts)
• Yogurt
• Fruit juice popsicles
• Homemade muffins or baked goods made without peanuts or peanut oil