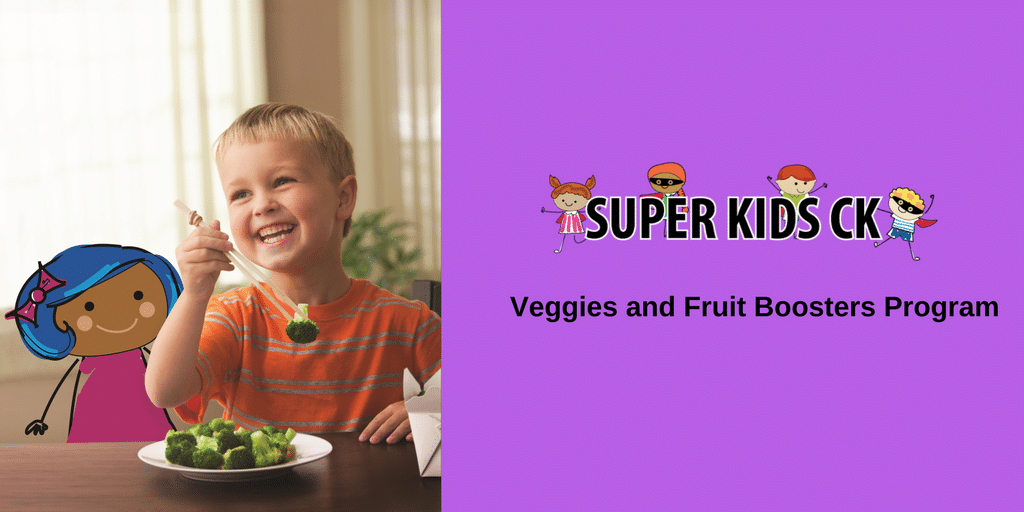 Super Kids CK Veggies and Fruit Boosters hopes to empower local organizations to implement a program, project, or campaign that helps make the community a place where it's easy for kids to boost their veggies and fruit.
Veggies and Fruit Boosters Application Form
Are you an elementary school (K-8), child care centre, community group or organization, and/or not-for-profit charitable organization that works with children (12 and under) and families? If so, you can apply for one of two funding levels:
Level 1 funding for up to $1000 for Building Food Skills. These projects include the following:
Teaching children and families food skills by trained professionals (e.g. organization's staff members may attend train-the-trainer sessions for food skills through the Food Skills Network); and/or
Supplementing an already existing food skills program targeted at children and families (e.g. required funds for small appliances, space rental, supplies, food ingredients, etc.).
Level 2 funding for up to $5000 for Comprehensive Initiatives. These projects are innovative and comprehensive with two or more components. As an example, your project may include any of the following components:

Parent, family, and caregiver engagement and support
Student engagement and peer support
Social marketing and healthy food marketing
Education and skill building
Nutrition and healthy eating education
Garden-based education
Cooking and kitchen-based education
Farm to school and community
Creating supportive environments
Policy
Integrating healthy eating and physical activity
All applicants must demonstrate a mandate of targeting children 12 and under and/or families with young children.
To learn more about this opportunity and to help you make strong objectives for your application join us on Wednesday, June 7, 2017 at 2 p.m. for a webinar with Public Health Ontario, especially for Super Kids CK Veggies and Fruit Boosters applicants. Register on Eventbrite.
Submit your application to superkidsck@chatham-kent.ca by Friday, June 23, 2017. If you have any questions about the application please contact superkidsck@chatham-kent.ca or call 519.352.7270 ext. 2438.