Vaping Protection
Vaping is regulated similarly to tobacco and cannabis under the Smoke-Free Ontario Act, 2017, you cannot smoke or vape in any enclosed workplace, any enclosed public place and other places designated as smoke-free and vape-free.
If you smoke or vape where it is not allowed, you may be charged with an offence and subject to a fine (up to $1,000 for a first offence, $5,000 for any further offence) if convicted. CK Public Health Tobacco Enforcement Officer's enforce the SFOA across Chatham-Kent.
For the purposes of this page:
"vaping" means inhaling or exhaling vapour from an electronic cigarette (e-cigarette) or
holding an activated e-cigarette, whether or not the vapour contains nicotine
In terms of schools, all vaping is not permitted on all school properties plus an additional 20 metres surrounding it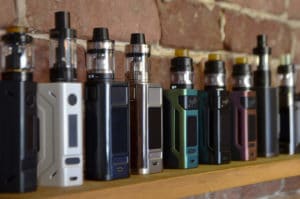 Have a compliant about vaping in a public place or need more information about the laws and regulations about this topic? Want to request provincial signage for your business? Send us an email at: CKSmokeFree@chatham-kent.ca or call us at 519-352-7270.
Specialty Vape Stores
Retailers who wish to sell primarily vaping products are permitted to operate a "Specialty Vape Store" that is registered locally with CK Public Health. Those retailers who are registered have some advertising and promotion exemptions available to them compared to other "regular retailers". For more information on the criteria needed to register and operate as a "Specialty Vape Store" please visit the Ministry page found here.
Interested in registering as a "Specialty Vape Store"? Contact us at CKSmokeFree@chatham-kent.ca or call us at 519-352-7270