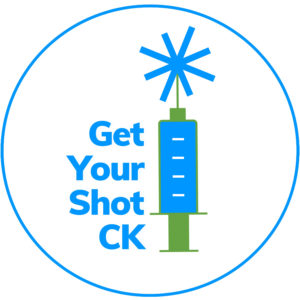 From this page, you will be redirected to the Municipality of Chatham-Kent appointment scheduling tool PerfectMind in a new tab/window.
Before selecting an appointment date, time and location you will first need to CREATE AN ACCOUNT. Please read below on how to create an account
Please RETURN TO THIS PAGE after you have created an account and have logged in.
After you have successfully created an account and have logged in you will be able to BOOK YOUR VACCINATION APPOINTMENT following the directions below.
Please note, if you have already created an account to book Municipality of Chatham-Kent Recreation Programs and Services you do not need to create an account and you can book your appointment now.
Please ensure that you reach the final confirmation screen that says "print registration confirmation"  to guarantee you followed the process completely. 
How to create an account
On the registration home screen select 'Signup' to create a new account 
(If you already have an account, enter your email and password, and select 'Login' and RETURN TO THIS PAGE to select the BOOK VACCINATION APPOINTMENT button below)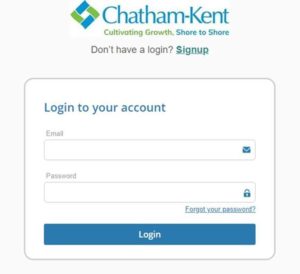 To create a new account, complete all the required fields as listed below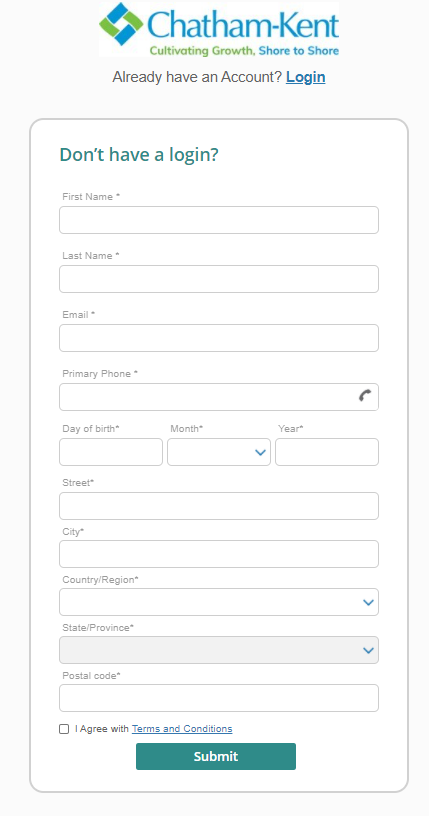 Enter your first and last name
Enter an email address you wish to use for accessing your online account

Note: an email address is mandatory to create an online account. (If you do not have an email address you can still book an appointment by calling COVID-19 Vaccination Phone Line at 519.351.1010 and leaving a message)

Enter your primary phone number
Enter your birthdate (Day, Month, Year) 

Note: Birthdates entered when creating your profile can only be changed by contacting our Customer Service Centre at 519.360.1998.

Click Submit and a temporary password will be sent to the email address you've provided. Upon logging in for the first time you will be prompted to create a new password.
Your new password must be 11 characters long and contain at least one number and one upper case letter
PLEASE NOTE: If you enter an incorrect password too many times you will be locked out for 30 minutes.
The CREATE AN ACCOUNT page will launch in a new tab.
Once you have created an account RETURN TO THIS PAGE and proceed below by selecting the BOOK VACCINATION APPOINTMENT button. 
Log In or Create a New Account
How to book an appointment
Please read all steps first. Once reviewed, you can click on the Book Vaccination Appointment button below to start the process. 
Step 1: Log into your Chatham-Kent PerfectMind account.
Step 2: You are now logged in and can book your appointment
Step 3: After returning to this page,  select the appointment you wish to attend from the list of appointments shown. Scroll to find a date and time that fits with your schedule and what vaccine you will be receiving. Use the filters to view dates across several months or to search for a specific date you are interested in.
Step 4: Click Register Now on the activity you would like to attend
Step 5: Confirm the date and time is correct, and click Register Now.
Step 6: Select the account member(s) who will be attending the event and click Next. You can also add multiple members at one time to register for this appointment by selecting +Add Family Member. A pop up window will open where you will need to add their name and birthdate and confirm other registration details. Select Next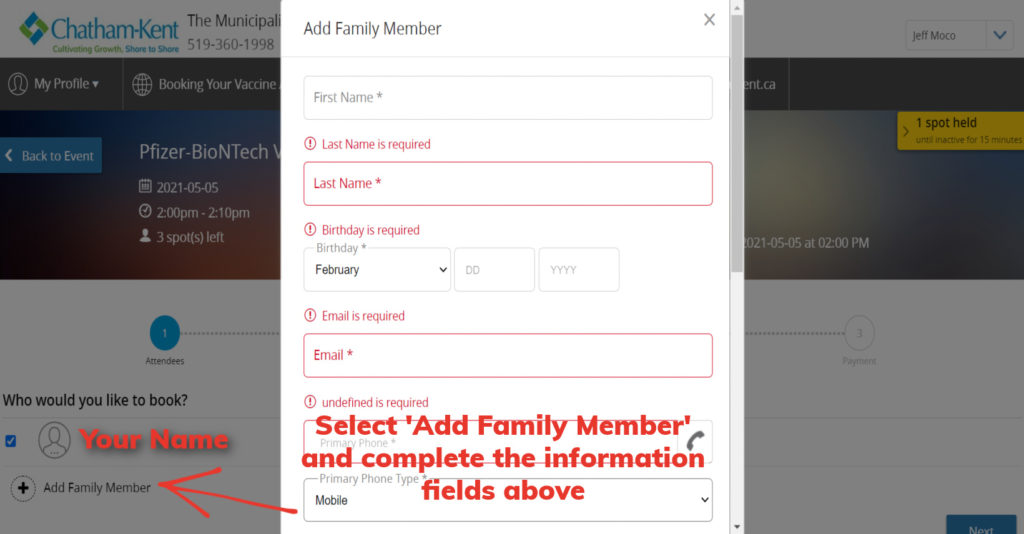 Step 8: Complete vaccination questionnaire by confirming eligibility, first dose information (and date if applicable) and listing an assistance needs. Select Next
Step 9: From the cart summary screen,  confirm all details and select  Checkout.
Please note that there is NO COST to book an appointment and PAYMENT will be $0 (zero dollars)
Step 10: From the checkout screen,  click Place My Order.
After your order has been processed, you will be directed a THANK YOU screen where you will have the ability to PRINT A REGISTRATION CONFIRMATION  (or take a screenshot/download image for those without a printer) You will also receive an email that confirms your appointment.