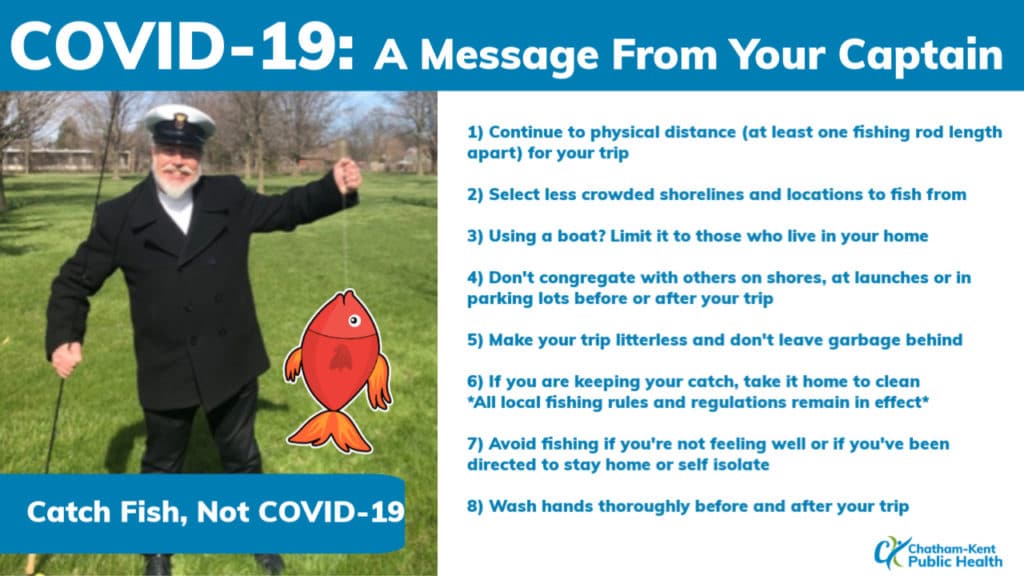 Chatham-Kent Boat Launch Status-List updated April 24, 2020
Chatham Thames Grove Conservation Area, 8 Kingsway Drive
Closed: River needs to be dredged (required every spring). Due to environmental regulations to protecting species during spawning, dredging cannot occur until after July 1st. The ramp is presently blocked off because of silt accumulation and the possibility a boat could be damaged.
---
Dresden: 300 Metcalfe St. W.
Closed: Ramp is presently under water – too high to use properly
---
Muirkirk: Clearville Park, 18498 Clearville Rd.
Open and Accessible
---
Shrewsbury Boat Launch
Open: Water is high but ramp can be accessed
*Please note that 118 Brock Street Shrewsbury is not the location of the Shrewsbury Boat Launch. 118 Brock Street is private property*
---
Tilbury: Tilbury Government Dock, Jeannette's Creek Rd
Closed: Ramp is under water – not recommended for use
---
Wallaceburg: Huron Launch, 150 Wallace St.
Caution: Ramp is under water, but could probably be accessed, please use caution
Wallaceburg: MacDonald Park, 29860 St. Clair Parkway
Open:Ramp is accessible
---
Wheatley: Wheatley Harbour, 21 Kay Ave. (not municipal)
Closed: Wheatley Harbour Authority has closed the ramp
---