Need to cancel your upcoming Chatham-Kent Public Health COVID-19 vaccination appointment? Please follow the steps below.
Need to rebook an appointment?
Book vaccination appointment
Canceling Your COVID-19 Vaccination Appointment
You have 2 options to cancel your vaccination appointment:
PLEASE COMPLETE ONLY ONE OF THE FOLLOWING:
Cancel online.  If you scheduled your appointment online using the Chatham-Kent Perfect Mind booking system, please cancel your appointment in the system by following the steps outlined below the cancellation form.
Complete cancellation form. Please note, if possible it is preferable for people to cancel their appointments using the steps outlined below.
Canceling Your Appointment Online:
---
Step 1:
Log into your PerfectMind account. Upon logging in, you will see a list of all family members. Select the name of the person whose appointment you want to cancel.

Step 2:
This takes you to your family details page. Scroll down until you see "Schedules", as pictured below. Click on "Schedules".

Step 3:
A calendar view of your upcoming events and appointments will show. At the top of the calendar, beside the month and year, select "Switch to List View".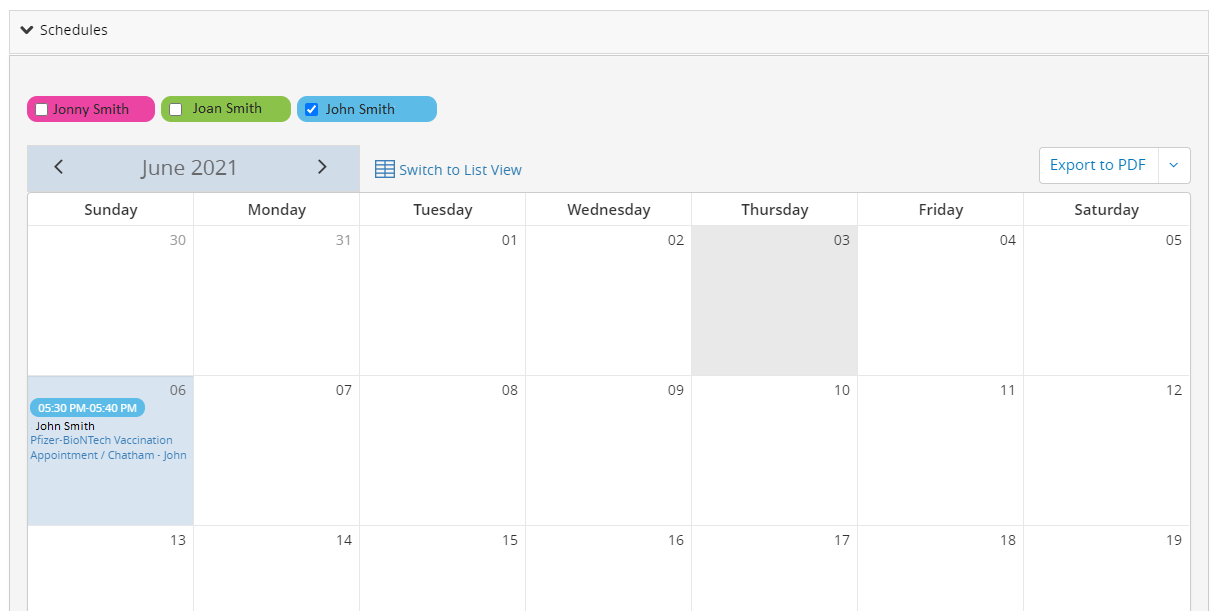 Step 4:
Click on "Actions" at the far right of the List View.

Step 5:
From the drop down menu that appears, select "Withdraw".

Step 6:
A pop-up window asking you to confirm that you want to "Withdraw" will appear. Click "Withdraw" to cancel your appointment.

Step 7:
A new page will open to confirm that you have withdrawn (canceled) your appointment. Please reschedule your appointment at your earliest convenience.