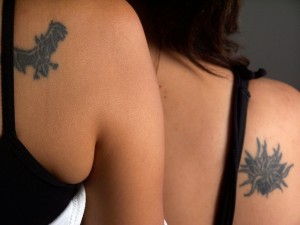 Getting a tattoo is a popular way of self expression.  But, before making this choice make sure you know all the important issues surrounding these permanent pieces of art.
Tattoos are available in countless colours or simple black, with thousands of designs to choose from or you can even design your own. Words, phrases pictures and abstract designs are a few of the many possibilities.
Getting a tattoo can be a bonding experience between partners and friends, and symbolism runs deep in many tattoos.
Risks and Cons of getting a tattoo:
Tattoos are permanent fixtures of the body, once the ink is placed in the skin it is not meant to be undone.  Tattoos can be removed to some extent but may be costly and painful.
Tattoos are applied directly to the skin by a hollow needle that injects the ink into the skin.  Some tattoos can take a short amount of time depending on the design or several hours or several sessions depending on the complexity of the tattoo.
Perhaps the most alarming negative aspect associated with getting a tattoo is the possibility of contracting blood-borne illness such as hepatitis or HIV.  If the operator doesn't follow strict best practice standards, this could occur.
 Tips for getting a tattoo:
Think very long and hard about your decision to get a tattoo
Get references for the tattoo parlour; not just for the cleanliness and meeting the best practice standards but also for the artistic design by the artist
Try a temporary tattoo first to see if you like the location, size, and design of the tattoo
Ensure you receive adequate after care instructions for your new tattoo