Thinking about quitting smoking? Congrats on making the first step in creating a healthier you
!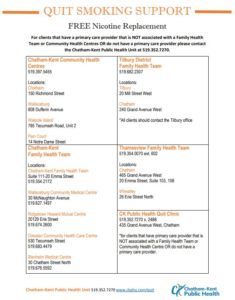 Did you know that almost 50% of daily smokers want
to 
quit some 
point 
in the next 6 months? Also, when making a quit attempt, the majority people try to quit on their own without any support or assistance
?
 Fortunately, there are many support options available to you in Chatham-Kent
. 
Check out the variety of options available and select something that fits for you. 
Need further assistance? You can always connect with us at 519-352-7270 ext 2488 or email us at CKSmokefree@chatham-kent.ca for more information.
---
Doctor's Office Quit Supports
Nicotine Replacement Therapy
Many doctor's offices in Chatham-Kent have programs where patients can access free or low cost Nicotine Replacement Therapy (patches/gum).
Check The List
Online and In-Person Counselling
There are many counselling options available to you that use many different formats. Online, phone, text messaging and groups are just some of the options. Connect with Smoker's Helpline to help decide what's best for you.
Smokers' Helpline
Our Current Options
We have a quit clinic!
Don't have a family doctor or access to Nicotine Replacement Therapy? You may qualify for services in our local quit clinic. Contact us today to see if we can help support your next quit attempt!
Do you have an Ontario Drug Benefit Card?
Some quit smoking medications like Champix and Zyban may be available to you for lower costs. Try speaking to your doctor or pharmacist if this is an option you're looking to explore.