---
What is Food Insecurity?
Food insecurity is the inadequate/insecure access to food because of a lack of money. The cause of this is poverty: inadequate/insecure income and material deprivation. This is why emergency food programs are not a long-term solution to food insecurity, because the problem isn't a lack of food.
Food Insecurity looks like worrying about running out of food or having limited food selection; choosing cheaper, less nutritious foods; or missing meals or not eating for days. All due to the lack of money to buy food.
When people in our community don't have enough money to buy nutritious food, their health is negatively affected. Food insecurity leads to a higher risk of chronic diseases (e.g. diabetes, heart disease) and mental health conditions (anxiety, depression). This is why food insecurity is a public health issue.
                                                                In Ontario, 1 in 6 households are food insecure.
                                                         In Chatham-Kent, 1 in 5 households are food insecure.
                                                                           The Cost of Eating in Chatham-Kent
The Nutritious Food Basket (NFB) is a monitoring tool used to measure the minimum cost of eating well for individuals and families in Canada. Ontario has its own NFB survey to support consistent data collection at a local level. The NFB has 61 food items that reflect Canada's Food Guide.
CK Public Health uses the NFB to monitor the affordability of food in Chatham-Kent (CK). The cost of these foods is calculated from 6 grocery stores across CK. The cost of food is then compared to rental costs in CK and applied to different household scenarios. These scenarios show that incomes are too low for people to afford the cost of food in CK. Please see the Food Insecurity in Chatham-Kent Report for further details.
Notes:
Due to the pandemic, CK was unable to monitor food affordability in 2020 and 2021.
NFB results from 2022 cannot be compared to previous years due to changes in the survey tool and methodology.
NFB data was collected in June 2022, therefore results will not reflect inflation or other increases in food costs since that time.
What can We do?
Income-based solutions are needed to address food insecurity. Some examples include:
Increasing social assistance (Ontario Works, Ontario Disability Support Program)
Increasing minimum wage to reflect the living wage

The living wage for CK is $18.15/hr

Providing a basic income guarantee
Lowering income tax for low-income households
Providing affordable and accessible housing, transportation, and childcare
What can You do?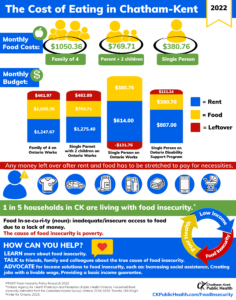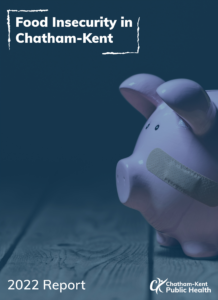 Talk to friends, family, and colleagues about the true cause of food insecurity
Advocate for income-based solutions to food insecurity
Further Learning Resources: