---
As of October 3, 2020 face coverings are required to be worn in all indoor public spaces and while using transit throughout the Province of Ontario under Ontario Regulation 364/20.
In Ontario, any person in the indoor area of a business or organization, or in a vehicle that is operating as part of the business or organization, must wear a mask or face covering in a manner that covers their mouth, nose and chin during any period when they are in the indoor. Exemptions to this requirement include (but are not limited to):
children  younger than two years of age;
individuals with medical conditions that inhibit their ability to wear a mask or face covering; and
individuals that are unable to put on or remove their mask or face covering without the assistance of another person.
Additional information, including details on when you do not need to wear a face covering, please visit the Government of Ontario's Face Masks and Face Coverings page.
Please visit the Government of Canada website for full details regarding 3-layer mask wearing to ensure proper material, structure, and fit are selected.
What type of mask to choose
Different types of masks are available for public use. Non-medical masks, medical masks and respirators can all be used in the community. A respirator worn in the community doesn't need formal fit testing.
Public Health Ontario has shared the following guidance on selecting a mask.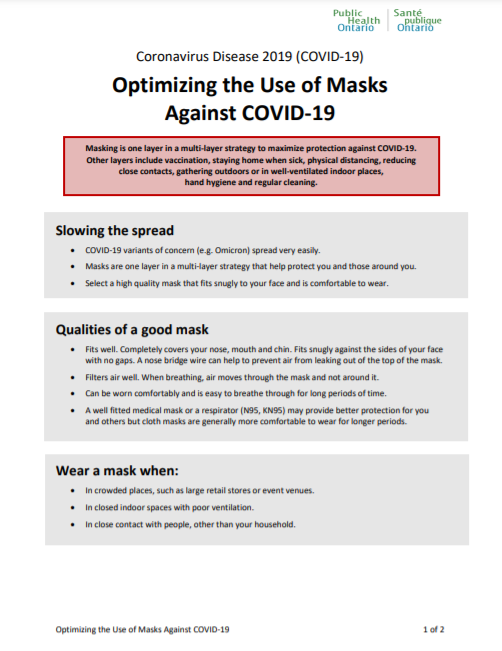 The effectiveness of non-medical masks in preventing the spread of COVID-19 can vary based on many factors. It depends on material, construction, fit and proper use. Some non-medical masks can help prevent the spread of COVID-19 similarly to medical masks if they:
fit well
have multiple layers, including at least 2 layers of breathable tightly woven fabric, such as cotton

 

and
an effective middle filter layer
Few non-medical masks provide information about their filtration effectiveness.
In general, while non-medical masks can help prevent the spread of COVID-19, medical masks and respirators provide better protection. No matter which type of mask you choose, proper fit is a key factor in its effectiveness.
Mask standards
There's currently no required standard for non-medical masks sold in Canada. Medical masks and respirators sold in Canada are required to meet established standards for filtration, breathability and fluid resistance.
Wearing a mask is only one aspect of reducing the spread of COVID-19. Please continue to abide by the following public health measures:
Maintain physical distancing of two metres at all times
Wash your hands with soap and water or use hand sanitizer with 70% alcohol frequently
Stay home (not going into the community or to work) if you're not feeling well, and get tested for COVID-19.
For any concerns regarding the by-law, please contact covid19enforcement@chatham-kent.ca or phone 519.360.1998.