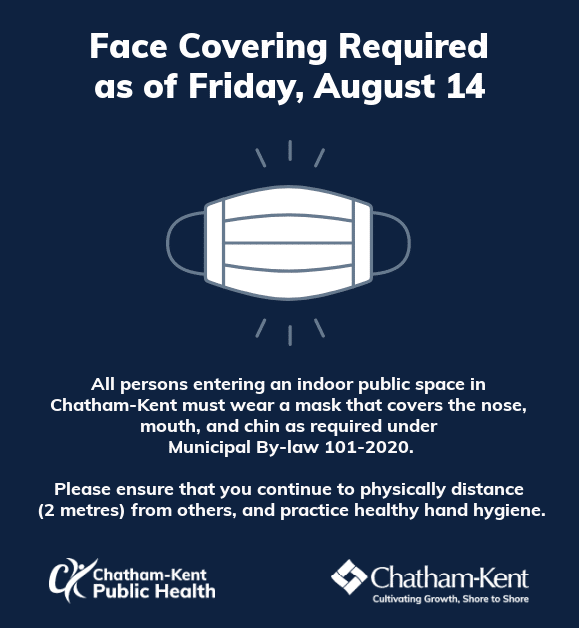 Face coverings will be required in all indoor public spaces in Chatham-Kent on Friday, August 14. 
On August 10th, Chatham-Kent Council voted in favour of having a Mandatory Mask By-Law. This by-law requires that face coverings (that securely cover the nose, mouth and chin) be worn in all indoor public spaces.
Wearing a mask is only one aspect of reducing the spread of COVID-19. Please continue to abide by the following public health measures:
Maintain physical distancing of two metres at all times 
Wash your hands with soap and water or use hand sanitizer with 70% alcohol frequently
Stay home (not going into the community or to work) if you're not feeling well, and get tested for COVID-19.
For any concerns regarding the by-law, please contact COVID-19 Enforcement or phone 519.360.1998. In addition, please check out the Municipality's Mask By-law FAQ page!
To assist you in learning about face coverings, here are some great resources!
Wearing a Mask: Do's and Don'ts
Face Covering Signage for Businesses (English)
Municipal Mask By-Law 101-2020
Municipality of Chatham-Kent's Mask FAQ
Government of Ontario Face Coverings and Face Masks
Government of Canada How to Safely Use a Non-Medical Mask in English or French.
Government of Canada: How to sew/no sew a mask
Government of Canada: How to put on, remove and clean a mask