Vaccinations are the most important thing we can do to help our children and youth get back to what they love.
A COVID-19 vaccine is now approved for children ages  5 to 11 and youth aged 12 to 17.  These resources, from reliable sources, will help to inform your decision to vaccinate your child.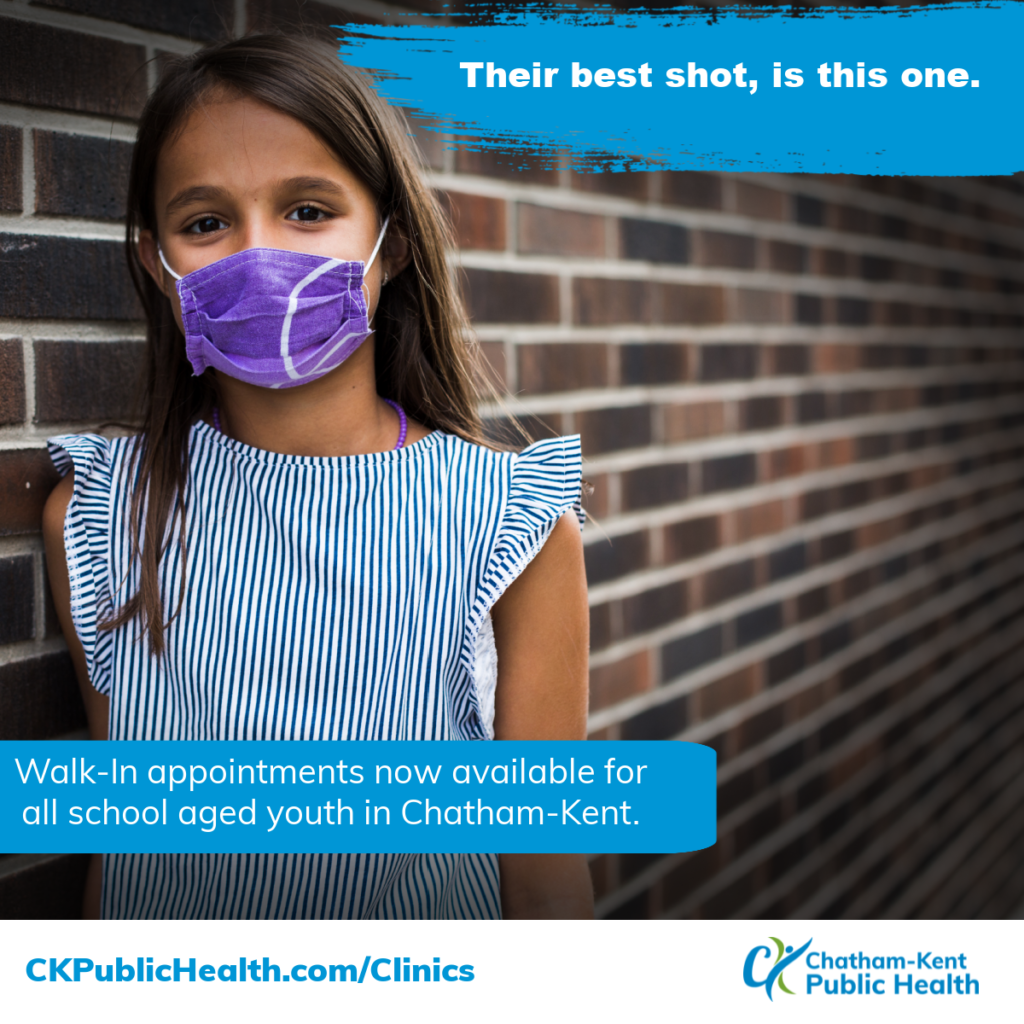 Walk-in appointments for school age children ages 5-11 are NOW AVAILABLE!
On this Page:
Last updated November 30, 2021

We are NOW BOOKING vaccination appointments for children ages 5-11. To view a schedule of all clinics open to 5 to 11 year olds, see here. Please book online at GetYourShotCK.ca or by calling 519.351.1010.
Children age 5-11 (born 2016 or earlier) are now eligible to receive the Pediatric Pfizer-BioNTech vaccine. Please note, Pfizer-BioNTech is the only COVID-19 vaccine currently approved for this age group. Children 5-11 can receive a second dose 8 weeks after their first dose. (Children who turn 12 after their first dose will receive adult Pfizer vaccine as a second dose).
Children turning 5 in 2022 must be at 5 years of age on their appointment date.
Parent Resources
Use these resources to answer your questions or help prepare your child for vaccination.
Information About the Vaccine: 
Preparing Your Child for Vaccination: 
The CARD System (strategies to help make your vaccination experience a more positive one)
Kid-Friendly Resources 
Share these resources with your child to help prepare them for their COVID-19 vaccine appointment!
Dress like a super hero to get your vaccine!

Video Resources:
What Parents Need to Know About the COVID-19 Vaccine for Kids. Experts Take Your Questions. (CBC News)
Resources for Youth (12 to 17)
Factsheet
A plain language information sheet from the Province of Ontario to help you understand the COVID-19 vaccines.
Poster
Use this poster from the Province of Ontario to inform people about the importance of the COVID-19 vaccines.
Social Story
This social story is available for download as a Powerpoint document. It is designed to be adapted and personalized as caregivers see fit to match the needs and literacy levels of the audience.
Video Q&A
CBC Saskatchewan hosts a Q&A session about the pandemic with Saskatoon clinical microbiologist Dr. Joseph Blondeau and students from across the province. The conversation is moderated by CBC's Peter Mills.
Live Q&A recap:
COVID-19 Vaccine FAQs for Youth
Last updated November 15, 2021
Ask an Expert Your Vaccine Questions
VaxFacts Clinics
Not really sure about the COVID-19 vaccine, or the information you've seen? VaxFacts will connect you with an expert doctor who is ready to talk, listen, and help you get the most accurate information.
For more information, or to book an appointment, visit the VaxFacts website.
SickKids COVID-19 Vaccine Consult Service
Available to children, youth and their families, the SickKids COVID-19 Vaccine Consult Service offers by-appointment phone consultations with a trusted health care professional from SickKids to answer questions and help you make an informed decision about vaccination.
For more information, or to book an appointment, visit the SickKids COVID-19 Vaccine Consult Service website.