Groups currently eligible for COVID-19 Vaccinations (CK Public Health Clinics)
---
Page Last Updated: April 21, 2021. Please expand each category for more details.
---
COVID-19 Vaccination Updates
1)

Book your vaccination appointment online at

 

GetYourShotCK.ca
A brand new online registration portal where residents can book their own COVID-19 vaccinations 24 hours a day, 7 days a week.
Why book your appointment online?
Get quick confirmation of an appointment
Select from a variety of dates/times and locations
One account holder can register multiple family members that are eligible
What do you have to do?
Confirm you meet current eligibility requirements
Create an online account
Book you appointment
Will I need help?
The process is pretty straightforward by following the directions on our "How to book" page
We even made a quick walkthrough video to help!
Can I still use the phone system?
Of course, please continue to call 519-351-1010 and leave a message if you're ok waiting a few days
For more details, please visit our newsroom for the full news release: https://ckphu.com/newsroom/
2)

NEW!  

Pharmacy Vaccination Expansion

(April 19,2021)
Starting Tuesday, April 20, 2021, Ontario will offer the AstraZeneca COVID-19 vaccine to individuals aged 40 and over at pharmacy and primary care settings across the province.
Search for a pharmacy location near you or view the Chatham-Kent locations below in the "Vaccine Distribution" section and select "Pharmacy Vaccinations in Chatham-Kent"
(Please connect directly with pharmacy locations for appointments and vaccine availability)
3) How to book an appointment by phone: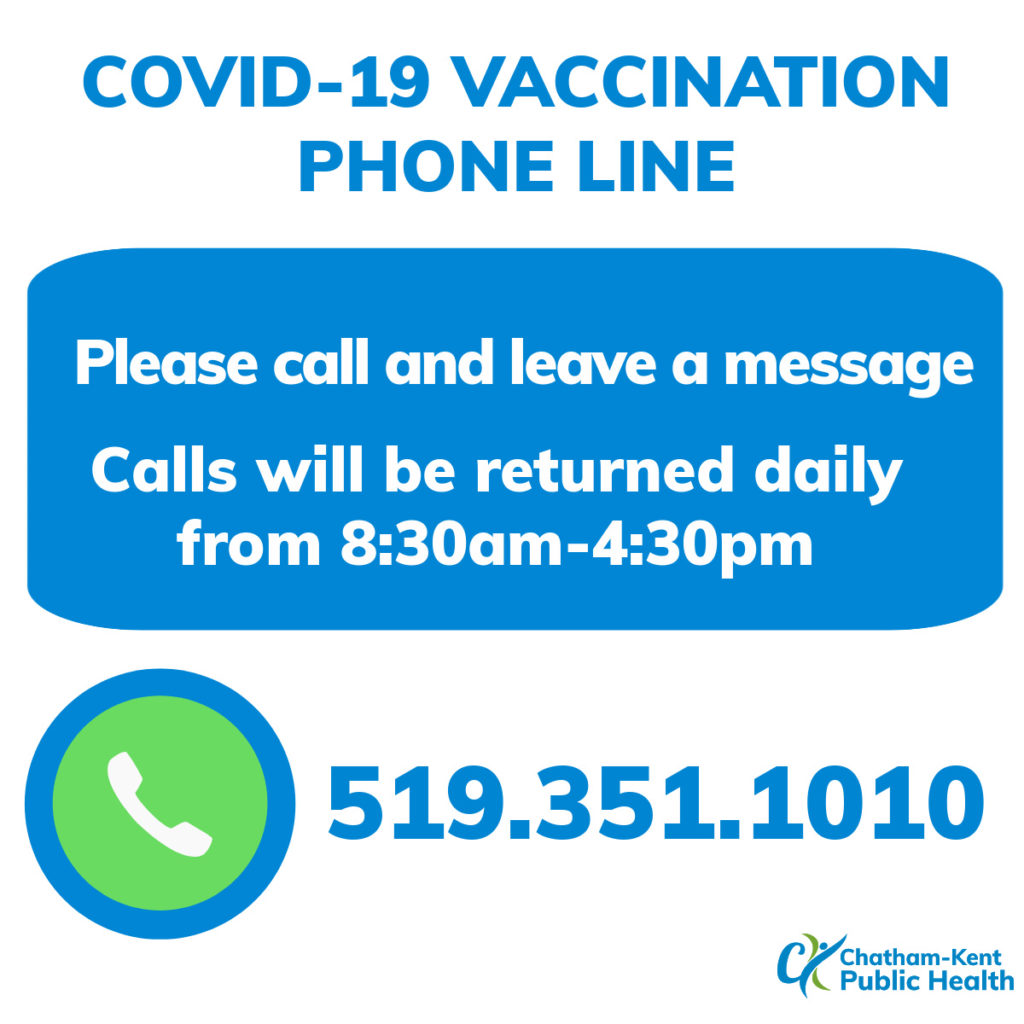 To help manage call volumes:
The COVID-19 vaccination call centre staff continue to work hard to return your calls, and get you and your loved ones booked in to be vaccinated and will be returning calls between the hours of 8:30am-4:30pm daily. (except for statutory holidays)
4) Important Update on 2nd doses
NEW! Ontario policy currently prescribes a booster interval of 16 weeks except for the following clinical situations:
Indigenous residents living on reserves ( For instance, Delaware Nation at Moraviantown)
Residents of long-term care homes, retirement homes, Elder Care Lodges and Assisted Living facilities
Remote and isolated First Nations communities
Transplant recipients (including solid organ transplants and hematopoietic stem cell transplants)
Individuals with malignant hematologic disorders and non-hematologic malignant solid tumors receiving active treatment (chemotherapy, targeted therapies, immunotherapy) excluding individuals receiving solely hormonal therapy or radiation therapy.
If you fit any of these eligibility criteria, you can book an appointment within 21 to 28 days for Pfizer and 28 days for Moderna.
When do I need to book my 2nd appointment? Unless you are exempted above, please use the following chart to help assist you when to call in booking your 16 week follow-up appointment.
Updates on booking 2nd doses using GetYourShotCK.ca will be shared in the future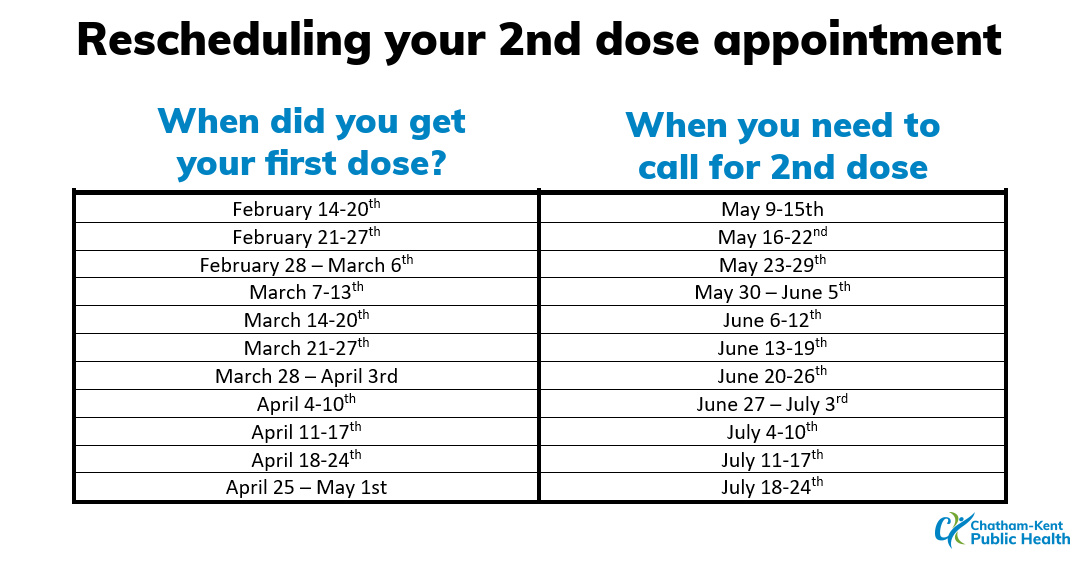 COVID-19 Vaccination in Chatham-Kent
During the phase 2 rollout of vaccinations in Chatham-Kent (April to June 2021) various categories and groups will begin to become eligible to receive a COVID-19 vaccination appointment. As new groups become eligible, they will be announced and listed on our online appointment registration portal at GetYourShotCK.ca 
Only the groups listed at the top of this page or on our online registration page (GetYourShotCK) can currently book appointments.
How and when groups become eligible is based on our current vaccine supply and guidance from the province of Ontario. As supplies increase, we will be able to move more quickly through the various groups listed below.
Please note: Some individuals may become eligible through other vaccination programs (pharmacy and primary care offices)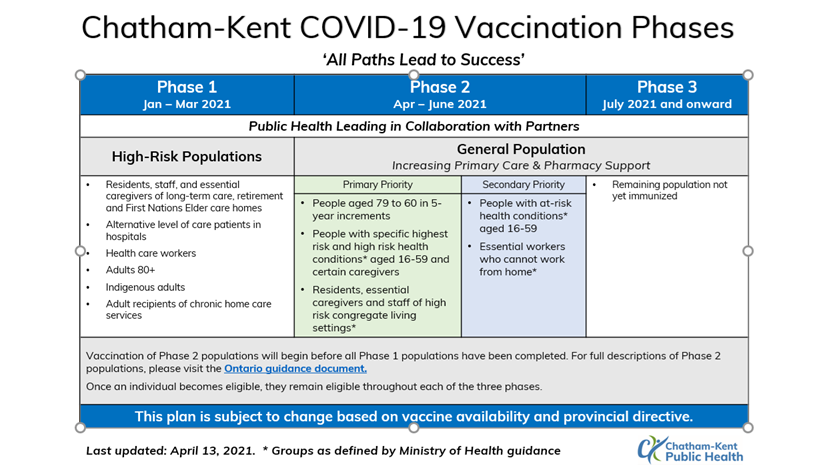 Primary Priorities for Phase 2 - In progress
Secondary Priorities for Phase 2 - Not currently vaccinating
At-Risk Health Conditions:
Immune deficiencies/autoimmune disorders
Stroke/cerebrovascular disease
Dementia
Diabetes
Liver disease
All other cancers
Respiratory diseases
Spleen problems (e.g., asplenia)
Heart disease
Hypertension with end organ damage
Diagnosis of mental disorder
Substance use disorders
Sickle Cell Disease
Thalassemia
Pregnancy
Immunocompromising health conditions
Other disabilities requiring direct support care in the community
We are not currently vaccinating members of the general public for this category.
Some individuals may be eligible through other means such as:
Their age
Access to pharmacy or  primary care vaccinations with AstraZeneca
They are an alternative level of care patient in hospital
COVID-19 Vaccines
Vaccines are safe, effective and the best way to protect you and those around you from serious illnesses like COVID-19.
Vaccines work with your immune system so your body will be ready to fight the virus if you are exposed. This can reduce your risk of developing COVID-19 and make your symptoms milder if you do get it.
With multiple vaccines now approved for use in Canada, the best vaccine for you is the one that is available to you. Get vaccinated as soon as you are eligible, with the vaccine that is being offered to you at that time. It is the best way to protect yourself as soon as possible.
Here's what you need to know BEFORE your vaccination appointment.
Here's what you need to know AFTER your appointment
Learn more about the vaccines here:
---
COVID-19 Vaccine Distribution
The COVID-19 vaccine distribution plan for Chatham-Kent is being managed collaboratively, determined in accordance with Provincial guidelines, and informed by an Ethical Framework for COVID-19 Vaccine Distribution from the Ministry of Health. Multiple scenarios and plans are required due to the complexity of needs associated with different vaccines and communities, and to ensure a safe, fair, and quick distribution practice.
When you're eligible for a vaccine, don't delay your chance. Get it as soon as you can as vaccine supply can change, and it's best to protect yourself as soon as possible.
Check out the links below from the Province of Ontario for current information about vaccine distribution.
---
---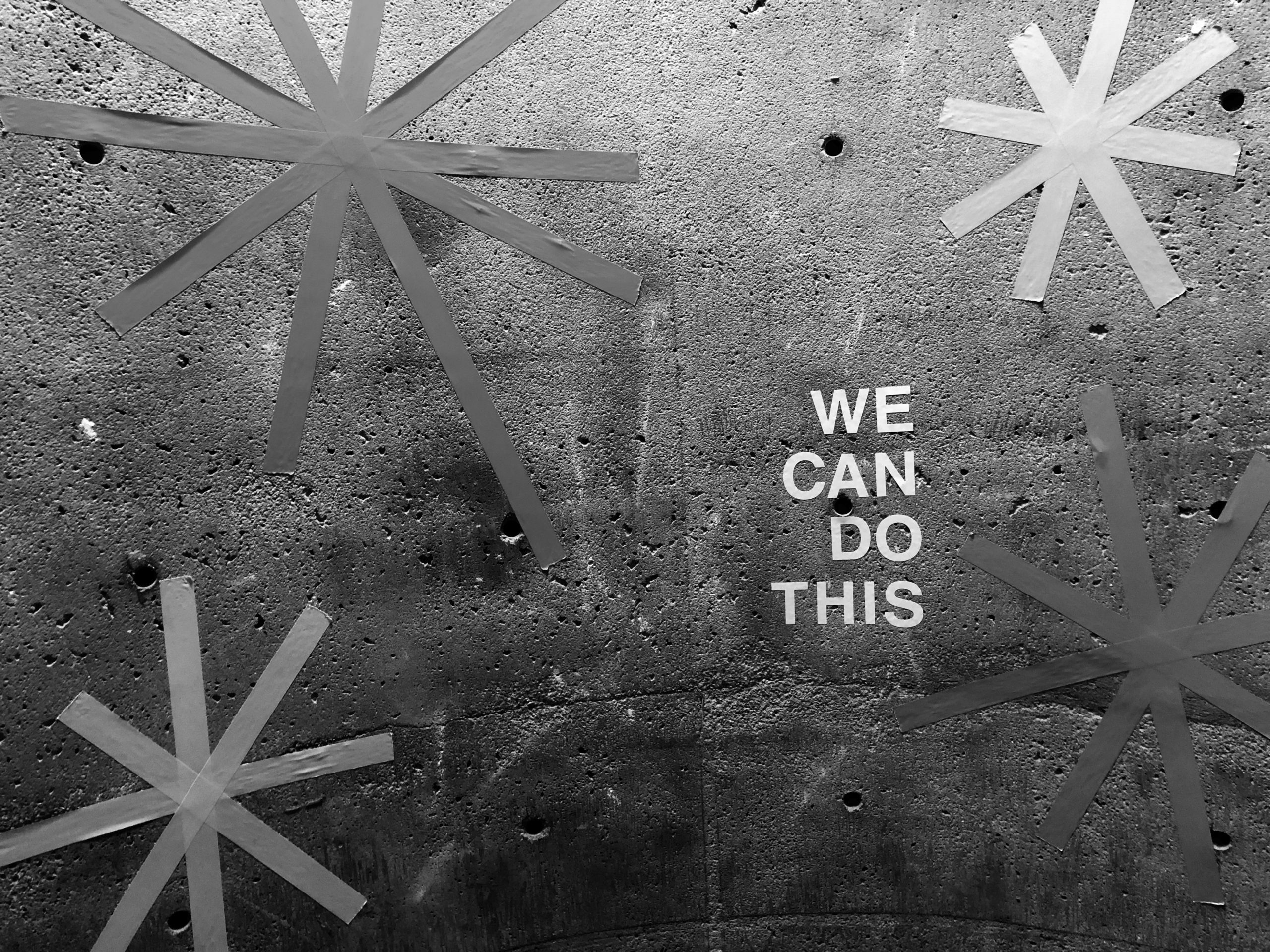 What can I do right now?
CK Public Health is grateful for the trust you place in us to help guide you through this COVID-19 pandemic. While according to our research the majority of the public believes that public health measures are necessary and are following them, we understand that "COVID-19 fatigue" is a real thing.
We want to remind you that what we do right now matters.
The availability of a COVID-19 vaccine is something that we have all been waiting and working for, and racing toward.
Let's keep each other safe, and walk over the finish line together.
---
---