Current Vaccination Phase:
---
Residents, staff, and essential caregivers of long-term care, high-risk retirement and First Nations elder care homes
Alternative level of care patients in hospitals
Highest Priority and Very High Priority health care workers, in accordance with Ministry of Health guidance
Residents 80 years of age and up
Other staff, residents and caregivers in retirement homes and other congregate care settings for seniors
---
NEW!! (Feb 28, 2021):
Our COVID-19 Vaccination phone lines will reopen Monday March 1 from 9:30AM– 4PM Monday to Friday for people who are 80+ who live in Chatham-Kent.
To ensure that everyone is able to book an appointment, we are asking our 80+ community members to call in accordance with the following schedule:
If your last name begins with A through M, please call Monday, Wednesday, and Friday
If your last name begins with N through Z, please call Tuesday, Thursday, and Friday
Please call 519.351.1010 and leave a voicemail with our answering service; you do NOT need to call back again – we will return your call!
Please note: If you called before 8:30AM Saturday February 27th when the phone line opened, your message was not able to be returned. Please call back on your designated day.
The COVID-19 vaccination call centre staff continue to work hard to return your calls, and get you and your loved ones booked in to be vaccinated.
We appreciate your patience as we continue to get people appointments as quickly as we can.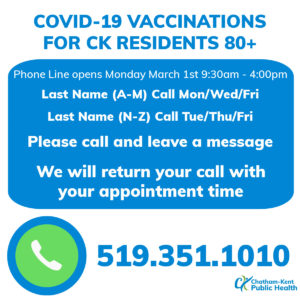 COVID-19 Vaccination in Chatham-Kent
Together we can do wondrous things, Chatham-Kent!
This is our moment!
As COVID-19 vaccines begin to roll out across Ontario, CK Public Health, the Chatham-Kent Health Alliance and CK EMS are working together collaboratively with the Chatham-Kent Ontario Health Team and community partners to coordinate the delivery of the COVID-19 vaccines to priority populations and the general community of Chatham-Kent through the following phased approach over the next few months.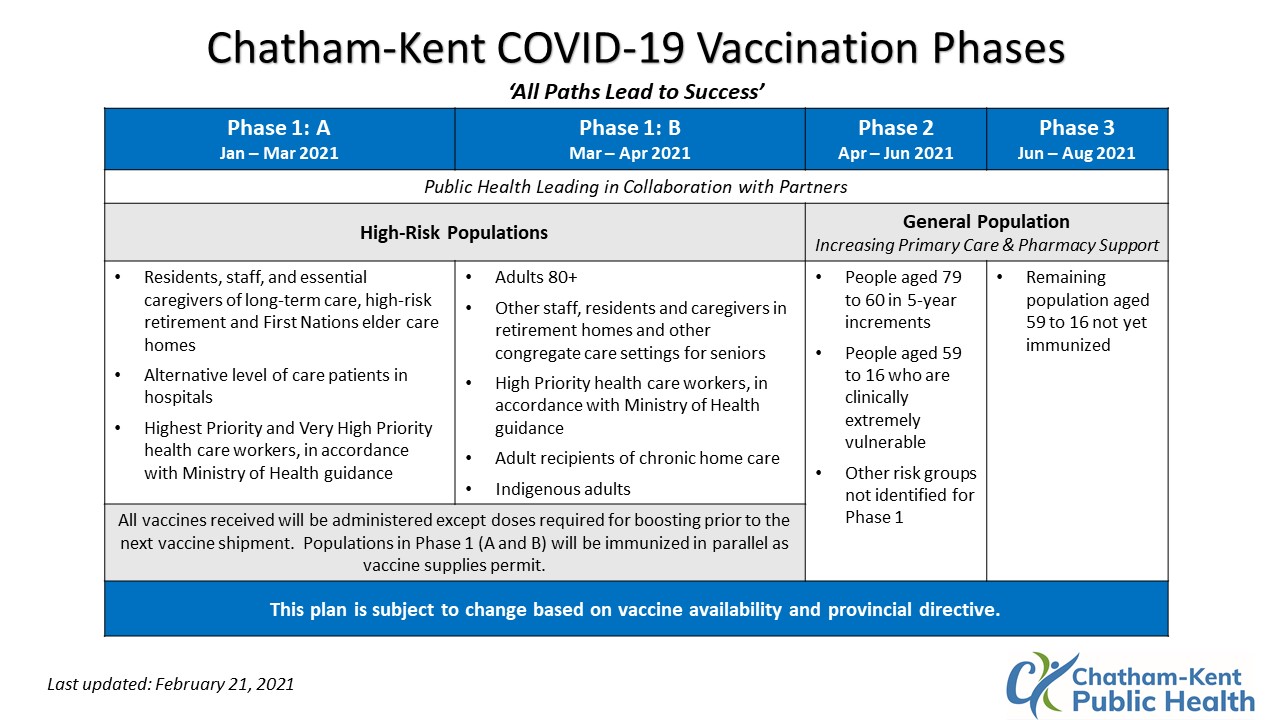 The COVID-19 story is one that is collectively written, including these vaccine chapters. If you have any questions, and/or are looking for particular information that is not yet contained here on this page, please connect with us at covid19@chatham-kent.ca or call us at 519-355-1071 ext 1900.
COVID-19 Vaccines
Vaccines are safe, effective and the best way to protect you and those around you from serious illnesses like COVID-19.
Vaccines work with your immune system so your body will be ready to fight the virus if you are exposed. This can reduce your risk of developing COVID-19 and make your symptoms milder if you do get it.
As of January 1, 2021 two COVID-19 vaccines have been approved for use by Health Canada.
Learn more about the vaccines here:
---
---
COVID-19 Vaccine Distribution
The COVID-19 vaccine distribution plan for Chatham-Kent is being managed collaboratively, determined in accordance with Provincial guidelines, and informed by an Ethical Framework for COVID-19 Vaccine Distribution from the Ministry of Health. Multiple scenarios and plans are required due to the complexity of needs associated with different vaccines and communities, and to ensure a safe, fair, and quick distribution practice.
Check out the links below from the Province of Ontario for current information about vaccine distribution.
---
---
What can I do right now?
CK Public Health is grateful for the trust you place in us to help guide you through this COVID-19 pandemic. While according to our research the majority of the public believes that public health measures are necessary and are following them, we understand that "COVID-19 fatigue" is a real thing.
We want to remind you that what we do right now matters.
The availability of a COVID-19 vaccine is something that we have all been waiting and working for, and racing toward.
Let's keep each other safe, and walk over the finish line together.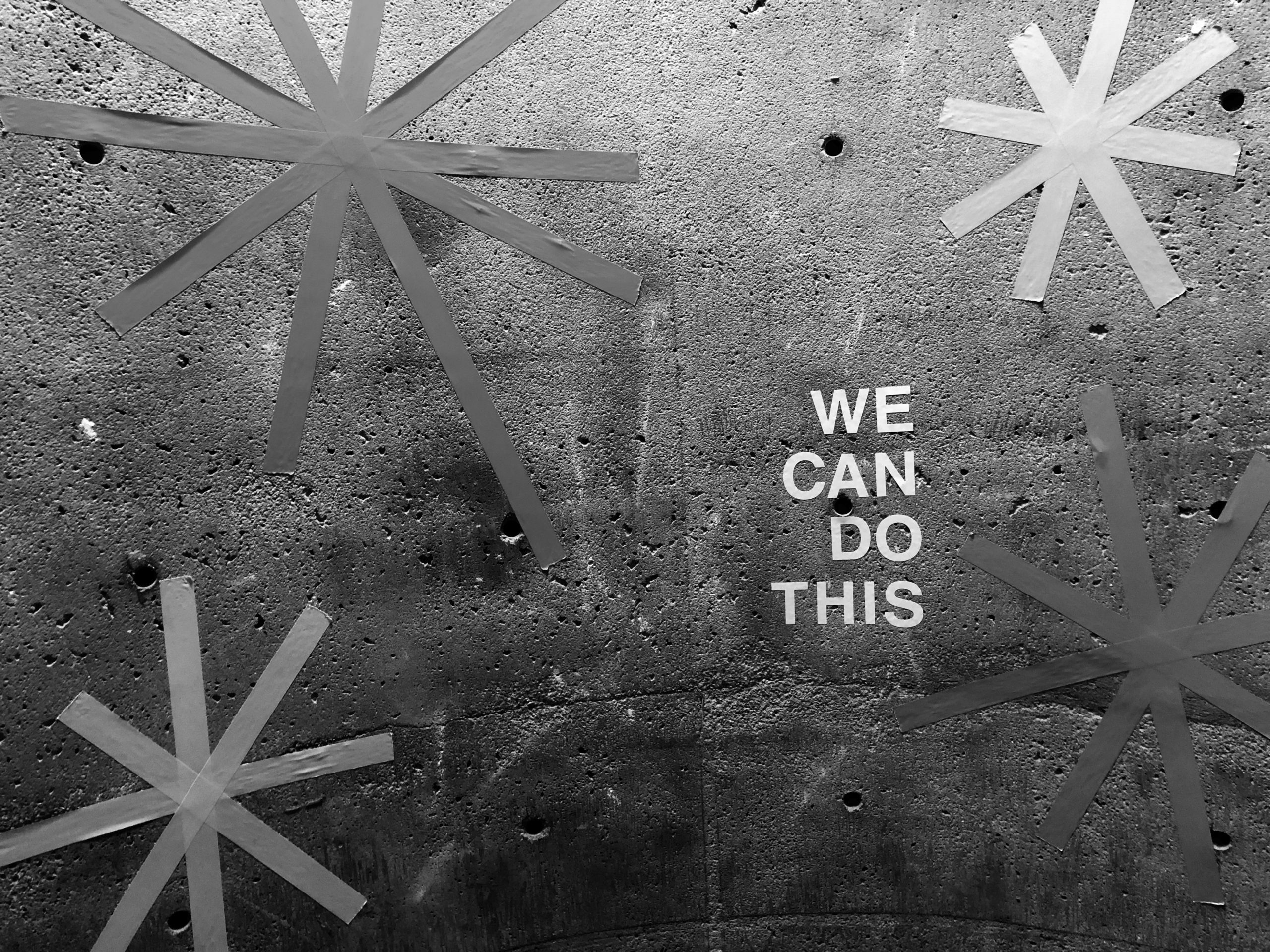 ---
---
Frequently Asked Questions
---