Please view the variety of resources available to health care providers. Are you needing something that's not available here? Send us an email to covid19@chatham-kent.ca for follow-up.
Vaccination Posters:

Child and Youth Vaccine Posters
Government of Ontario Self-Assessment Tool
https://www.ontario.ca/page/2019-novel-coronavirus-covid-19-self-assessment
Guidance Documents
See our Workplace page for a more comprehensive list of health & safety guidelines for employers and employees.
Long-Term Care & Retirement Homes
Visitor Information
Infection Control and Prevention
Signage for General Health Care Settings – PATIENTS
Signage for General Health Care Settings – VISITORS
Resources in Multiple Languages
Government of Ontario resources
Prevention announcement in various Indigenous languages
Mental Health Resources for Health Care Providers
Ontario COVID-19 Mental Health Network
CK Public Health COVID-19 and Substances poster
Help for those Isolating (CK Public Health)
Free online crisis training for essential workers
Centre for Additions and Mental Health Resources for Health Care Workers
NEW! Children's Fact Sheet ENGLISH    FRENCH
COVID-19 Vaccine Information Sheet
COVID-19 Vaccine Information Sheet for Special Populations
Health care and service providers are trusted professionals, are essential members of the dynamic collaborative effort being performed to manage the COVID-19 pandemic. Community members look to you for support, advice and reliable information about the COVID-19 vaccine. We have provided information and resources below to help you answer questions you may be asked by your clients and patients. If you don't see the answer to a question you have, please reach out to us at: covid19@chatham-kent.ca
Check out the links below from the Province of Ontario for current information re: vaccine distribution: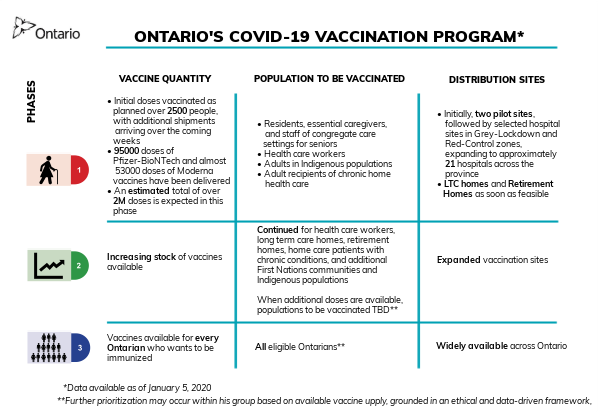 Ethical Framework for COVID-19 Vaccine Distribution
Local Chatham-Kent COVID-19 Vaccine Situation:
Health Care Worker Prioritization for COVID-19 Vaccination
About COVID-19 Vaccines
As of March 12 2021, four COVID-19 vaccines have been approved for use by Health Canada:
AstraZeneca COVID-19 Vaccine
Janssen COVID-19 Vaccine
Learn more about the use and safety of these vaccines below.
National Advisory Committee on Immunization Statement
Product Monographs
Summary of Product Details
Other Resources