We are not booking 2nd dose appointments at this time due to recent provincial changes.
Ontario policy currently prescribes a booster interval of 16 weeks except for the following clinical situations:
Indigenous residents living on reserves ( For instance, Delaware Nation at Moraviantown)
Residents of long-term care homes, retirement homes, Elder Care Lodges and Assisted Living facilities
Remote and isolated First Nations communities
Transplant recipients (including solid organ transplants and hematopoietic stem cell transplants)
Individuals with malignant hematologic disorders and non-hematologic malignant solid tumors receiving active treatment (chemotherapy, targeted therapies, immunotherapy) excluding individuals receiving solely hormonal therapy or radiation therapy.
All 2nd dose appointments will need to be rescheduled. (Except for those residents of LTC and retirement homes)
When do I need to book my 2nd appointment? Use the following chart to help assist you when to call in booking your 16 week follow-up appointment.
Updates on booking 2nd doses using GetYourShotCK.ca will be shared in the future. If you are one of the groups exempted in the list above, please call 519-351-1010 to book your 2nd dose.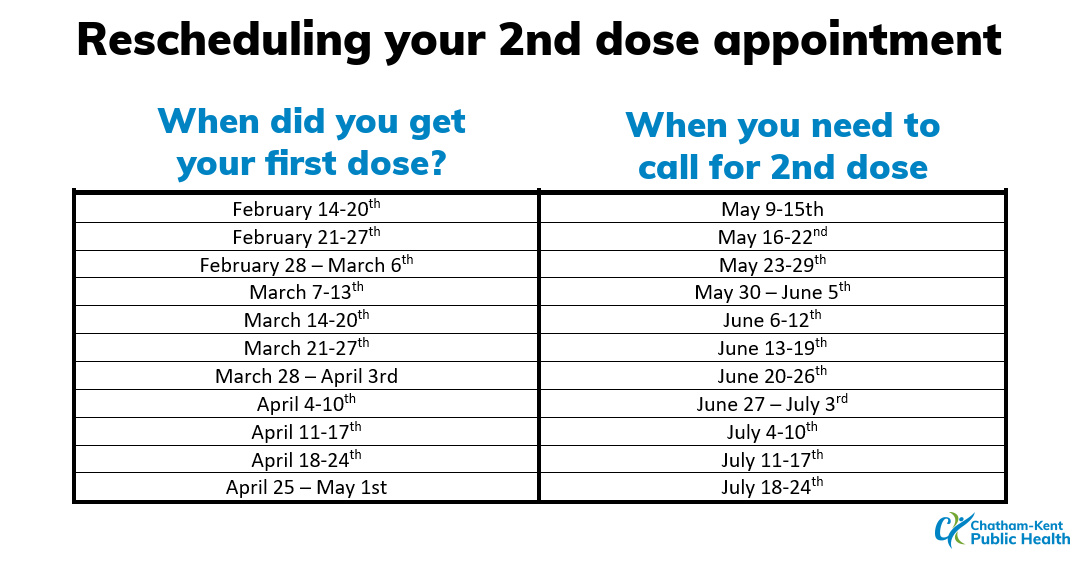 For all the latest COVID-19 vaccination updates, please visit www.ckphu.com/covid-19-vaccine