Ah, the sunshine. Is there anything more universally symbolic for "get outside"?
At any other time, during any other year, we wouldn't think twice about opening the front door and going to get some fresh air while enjoying the great outdoors. But has the COVID-19 pandemic changed this? Have the local closures and cancellations made it impossible? Has Spring and the opportunity to enjoy all of the beauty that comes along with it been cancelled this year? Well, not exactly…
It is important that we look at the reasoning behind the cancellations and closures in the first place: physical distancing (staying at least 6 feet – or one extended hockey stick length – between ourselves and others)
We know, we know – you've heard it a thousand times over the last month. But the truth is, Physical Distancing plays a HUGE part in lessening your chance of catching COVID-19, and lessens the chance of you passing it onto others as well. So, in attempts to slow the spread of the virus, local closures and cancellations were ordered for places and situations that made physical distancing difficult (i.e. playground equipment at public parks, recreational sports leagues, etc.)
But this does not mean that we are imprisoned within our own homes, restricted from entering the outside world at all times. Not by a long shot! Going for a walk along one of Chatham-Kent's trails, or strapping on a pair of rollerblades and doing a few laps around your neighbourhood is not only allowed, it's encouraged! You just need to make sure that you are following the rules that have been put in place to keep yourself and others safe. We've put together some easy-to-follow guidelines and reminders that may help you feel more at ease about venturing outdoors to get active, clear your mind and experience some sense of "normalcy" in your day-to-day.
Keep it in the Family Going for a walk around the neighbourhood with your spouse and children, all of whom you share a home with? A-okay! Meeting up with the neighbours and taking a stroll around the block? Not so much. If you have a larger family, consider breaking up into groups and taking different routes before meeting back up at home.
Share the Road Depending on where you live, you may run into other families or individuals in the neighbourhood trying to stay active and enjoy the outdoors. If this is the case, try to maintain a safe distance while passing one another. If necessary, consider safely crossing the street to utilize the sidewalk on the other side of the road. Don't fear coming across as impolite – a wave and a smile can go a long way, and others will be appreciative that you are taking the necessary steps to keep yourself, and them, healthy and safe!
Take the "Hands Off" Approach While utilizing public trails is a great idea, try to refrain from using benches or other equipment on the route when possible. Bringing along a travel-sized hand sanitizer to use before and after your excursion is a great idea, just in case.
*For families with small children:  It is important to have some conversation around needing to keep your safe distance (from people, and animals) prior to setting out for your stroll. If your child is at an age where following these rules may be difficult, consider bringing them along in a stroller or push-along bicycle to assist with keeping them "on the safest path".
Regardless of what outdoor activity you take part in, remember to wash hands thoroughly before leaving and once you arrive home. While outdoors, remember to cover your cough or sneeze with your elbow, or use a tissue and dispose of it properly.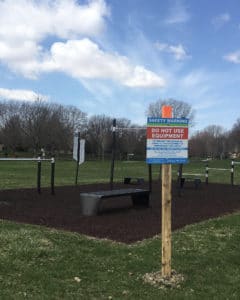 There are some locations across the municipality that have been officially closed, many of which indicate so with signage, yellow caution tape, or a mix of the two. It is always a good idea to keep up-to-date and informed with local closures before planning any sort of outing. If you're having trouble keeping track of it all, don't worry! We've compiled a helpful list that can be found on our website!
As we navigate this new, but temporary, world around us – please try to remember that supporting one another is of great importance. Now is not the time to shame or pass judgement on those around us. If you feel the need to provide information, make sure it is factual, and that you do so in a kind and compassionate way.
We're all in this together. 
*Please note that the above does NOT apply for individuals that have been ordered to self-isolate within their home for 14 days.