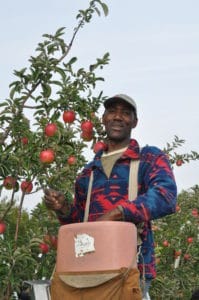 It's a well known fact that Chatham-Kent is a world leader when it comes to agriculture. In fact, we are the number one producer in all of Canada for tomatoes, carrots, seed corn, pumpkins and cucumbers. We also lead the provincial pack in producing green peas, broccoli, cauliflower and quail. High production levels of asparagus, field peppers, Brussel sprouts and sugar beets have also assisted us in "reigning supreme" when it comes to planting, growing and harvesting food to enjoy locally and to distribute all over the world.
None of this would be possible, however, without the efforts of seasonal workers who travel to Chatham-Kent from across the globe. Seasonal workers are an important piece to Chatham-Kent's unique identity, and we value their contributions to our community.
Due to this fact, their comfort and wellbeing during their stay is a priority to CK Public Health and our PHI's are responsible for inspecting all accommodations for seasonal agricultural workers. This means that over 200 dwellings are inspected to ensure that they are sanitary, structurally sound and safe for habitation. PHI's are also responsible for setting the maximum number of workers that are allowed per dwelling to prevent from overcrowding.
CK Public Health inspectors are dedicated to protecting the health and safety of all CK residents – whether they be permanent, temporary, or somewhere in between. Just another way that #WeGotYourBaCK and are #KeepingYouSafe