Do you know a child suffering from anxiety, obsessive compulsive symptoms, food restriction or motor/vocal tics?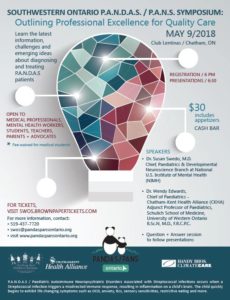 Did you know that 1 in 200 children with the above symptoms as well as other symptoms like sleep/urinary difficulties, emotional lability, separation anxiety, ADHD, fine motor skill and academic decline are suffering from a misdirected immune response causing inflammation in their brain, also known as PANDAS/PANS?
PANDAS/PANS Ontario is pleased to present the Southwestern Ontario P.A.N.D.A.S./P.A.N.S. Symposium on Wednesday, May 9, 2018 at Club Lentina's Banquet Hall in Chatham, Ontario. We invite you, your staff, and clients to join us for an evening of education, awareness and discussion about this emerging field of study.  
Dr. Susan Swedo, Principal Investigator and Chief, Paediatrics and Developmental Neuroscience Branch of the US National Institute of Mental Health and Dr. Wendy Edwards, Chief of Paediatrics, Chatham-Kent Health Alliance and Adjunct Professor of Paediatrics, Schulich School of Medicine at University of Western Ontario, B.Sc.N, MD, F.R.C.P.C will lead this important discussion that will bring together our medical community and community partners from a variety of disciplines to explore the latest in research and current diagnostic, treatment and therapeutic guidelines for PANDAS and PANS.
To learn more about P.A.N.D.A.S./P.A.N.S. please visit:
To register for this event visit: www.swos.brownpapertickets.com
To learn more about this event please find attached the event poster or contact Janet Raddatz, Event Coordinator at 519.437.7720.