Nine local schools will benefit from added shade trees on their grounds this October.  "Tomorrow's Greener Schools… Today" is a schoolyard tree planting initiative being led by the CK Public Health and Lower Thames Valley Conservation Authority with funds from TD Friends of the Environment Foundation.
Public and Catholic schools in Dresden, Chatham, Tilbury, and Blenheim submitted requests for the 70 trees available through this project.  Plantings will take place over the last few weeks of October and some will be done with the help of students.  Tree species are those that are native to the Carolinian forest region which extends as far south as the Carolinas and as far north as Southern Ontario and the GTA. Although the Carolinian Zone accounts for only 1% of Canada's total land area, it contains a greater number of species of both flora and fauna than any other ecosystem in Canada (Carolinian Canada, 2013).  Most of the trees to be planted will be red maples, with a few burr oak and tulip trees, as allowed by school board policy.
Participating schools are as follows: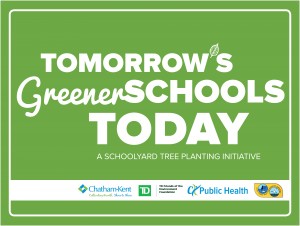 Ursuline College Chatham (The Pines), Chatham
St. Agnes Catholic School, Chatham
Monsignor Uyen Catholic School, Chatham
Victor Lauriston Public School, Chatham
St. Joseph's Catholic School, Tilbury
St. Anne's Catholic School, Blenheim
WJ Baird Public School, Blenheim
Harwich Raleigh Public School, Blenheim
Lambton-Kent Composite School, Dresden
The CK Public Health and Lower Thames Valley Conservation Authority would like to thank TD Friends of the Environment Foundation for providing the funding for this project. Appreciation is also extended to the Lambton-Kent District School Board and St. Clair Catholic District School Board for their attention to this project to ensure that plantings could happen as soon as possible.