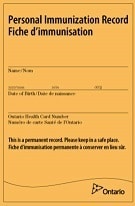 Lost your immunization record? Not kept it updated? We can help!
We keep records of all daycare children and students in school. 
If you need a record for work, school, camp or just because…give us a call!
 If we don't have your record, we can recommend other options to you.
Call us @ 519-355-1071, ext. 5900
Or go online at: www.chatham-kent.ca/vaccination