All workplaces are Smoke-free. It's the law. There are often a lot of questions about smoking and workplaces.  Let's review the most frequently asked questions.
What about Entrances or Doorways?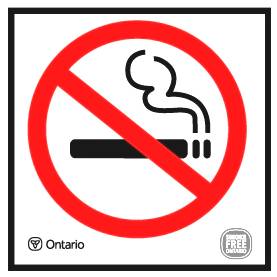 There is no smoking within 9 meters (or 30 feet) of any door at:
hospitals

retirement residences

all Municipal buildings in Chatham-Kent
What about Schools?
There is no smoking on any part of school property. Elementary, secondary, and private schools must be smoke-free. 
What about Smoking Shelters?
These are allowed by the Smoke Free Ontario Act for workplaces only

Can only have 2 walls and a roof for shelter from the weather

Must be at least 9 meters or 30 feet away from building entrances

Cannot be built close to another building

Cannot be built close to a food service area

Are not allowed for bars or restaurants

Bars and restaurants can allow smoking on an uncovered outdoor patio
Can I have a Smoke-Free Policy?
Any business can have its own smoke-free policy.  Write up the policy and put it in place.
That's it! 
If you have any questions or if you need some FREE no-smoking signs,
contact Nik Davidovic, Tobacco Enforcement Officer, (519) 352-7270 ext.2437 or e-mail at nikolad@chatham-kent.ca.